Trailhead Pants - Black
Trailhead Pants - Black Size Guide
All measurements are for the garment and are not body measurements. Trailhead Pants have a stylish ankle-length fit and the inseam may be shorter than you are used to. The Trailhead Pant is unisex sizing and looks great on all genders.
If you're looking for the fit of our original Kickstarter pants, grab the Slim Fits.
How to Measure
Small
Medium 
Large
X-Large
Want to see how these compare to the Slim Fit Trailheads? Click here >
'Damn Near Perfect'
They raised over $400,000 to become Kickstarter's highest funded outdoor pant. Durable, smartly built, and ridiculously comfy, our Trailhead Adventure Pant is revolutionizing the traditional recreation pant.
The Outdoor Pant You Can Wear to the Office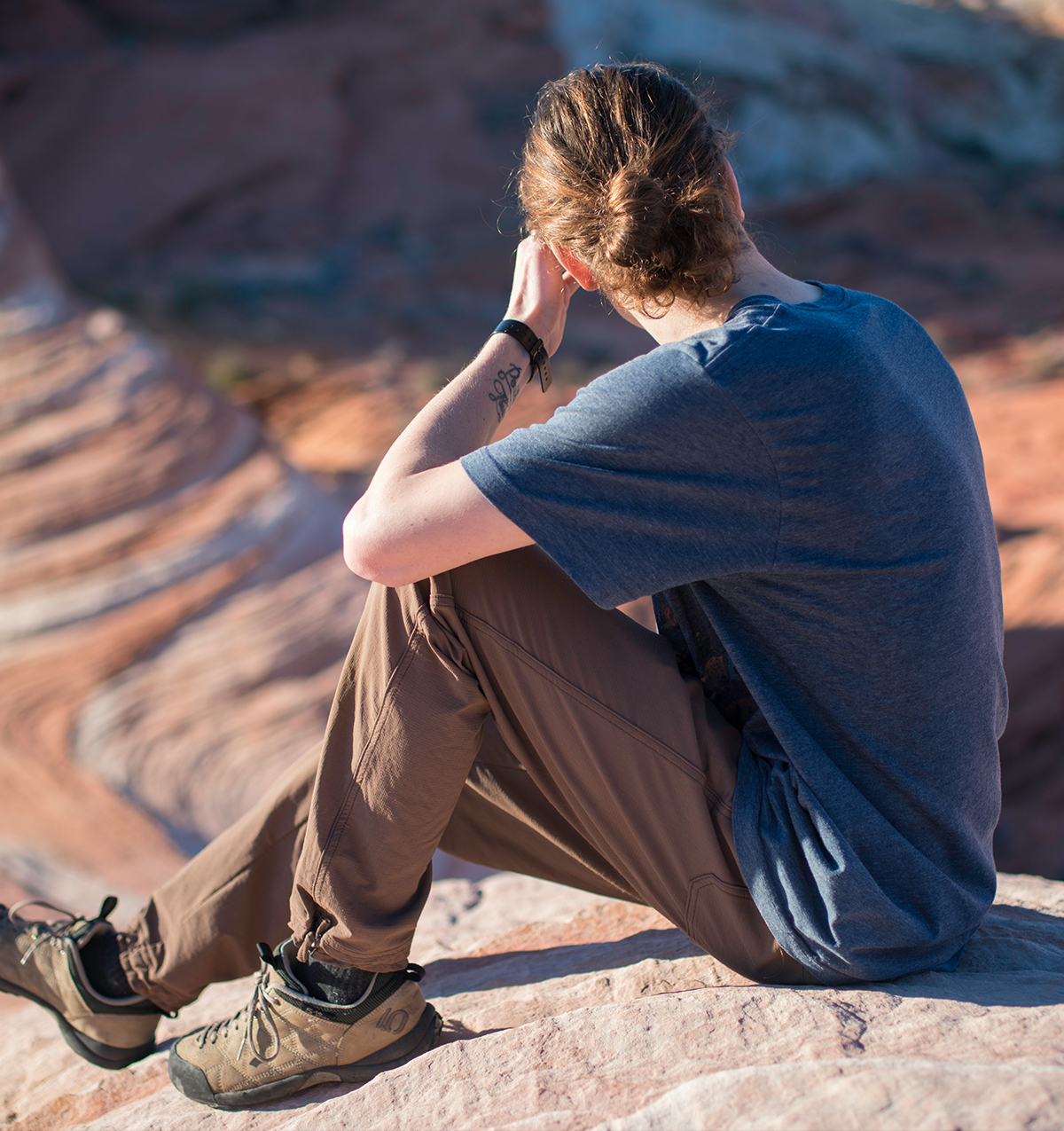 Waterproof & Breathable
Don't let a little water ruin your day. Our eco-friendly DWR finish not only repels water, but makes stains and spills bead right off, while maintaining all-season breathability.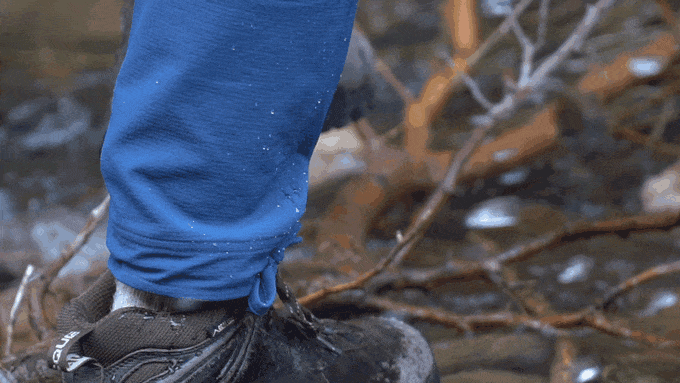 4-way stretch
Revolutionary four-way stretch features 360* of comfort and moves with you.
Anti-microbial
Unique fabric inhibits the growth of bacteria so you can do more and wash less.
Tear-resistant
Constructed from durable ripstop nylon that stops tears before they start.
REVOLUTIONARY MATERIAL MADE FOR ADVENTURE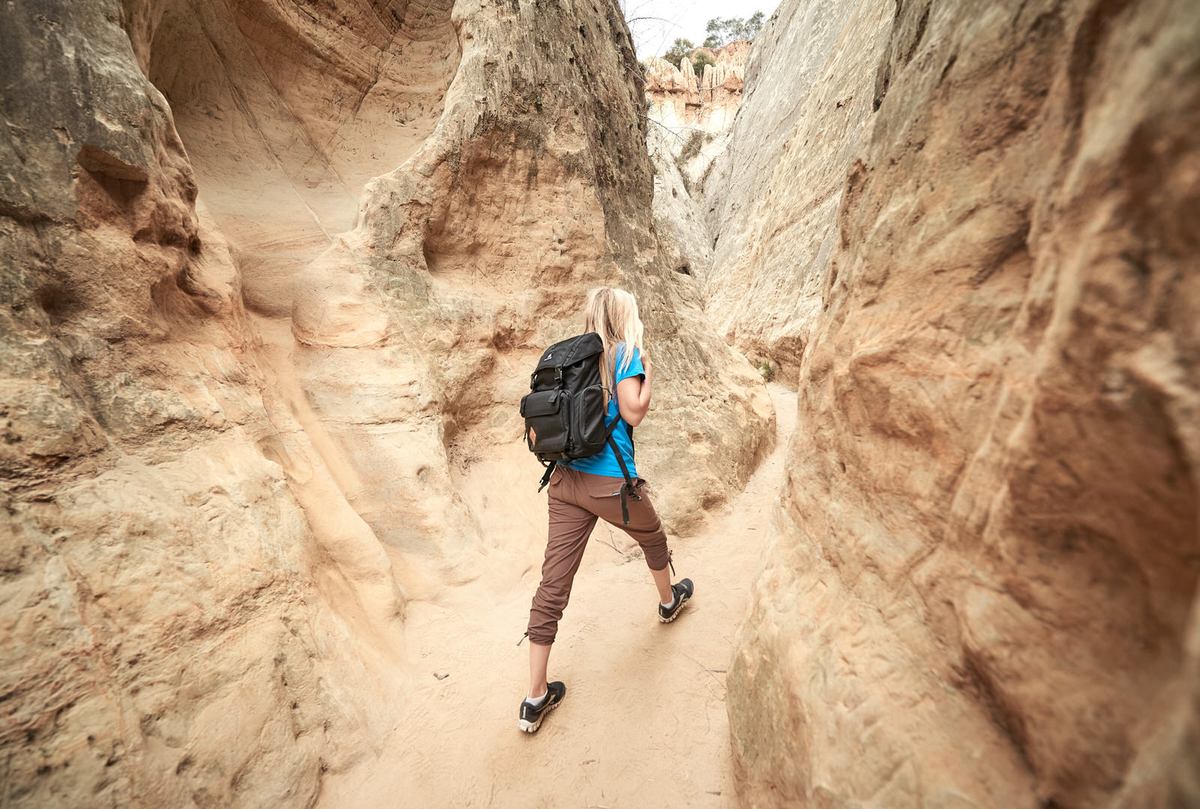 Stuff 'em & Run
Pack 'em down small by stuffing into the front right pocket. Wear them long or use the drawstring ankle ties to cinch them up to capris. No matter where you're headed, the Trailhead Pants are ready.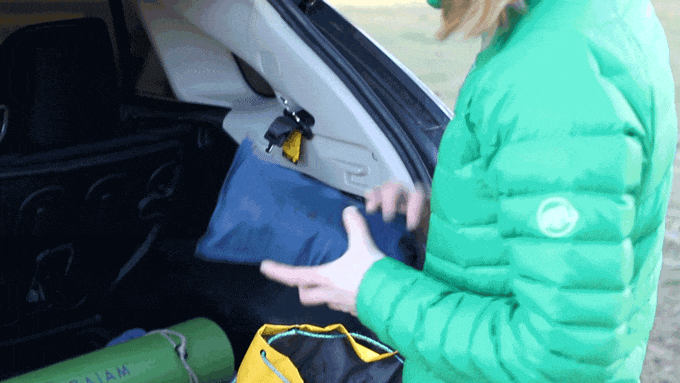 Waterproof and breathable, four-way stretch, antimicrobial, tear-resistant, packs down into front pocket for travel or for use as a small pillow.
bluesign® 88% nylon, 12% spandex with DWR finish. Made from recycled materials.
Machine wash cold with other technical fabrics. To keep the DWR feature lasting long, always hang dry. Do not bleach. Do not iron.
Omg just get the pants
I reviewed these in black, then I bought them in grey. The color is awesome. Now I have two pairs of pants that I can wear to yoga, hiking, or work that repel water and I can fit my entire water bottle (or wine bottle, if that's more your speed) in the pocket of and still do a split. And the pants aren't loose or baggy. My only complaint is the lack of a zipper pocket, I'm seeing one inside one of the large pockets for traveling so I can keep my valuables on me. The fact that they roll up into their own pocket, however, is quite brilliant for travel and backpacking. Get em.
Best travel gear ever!
This is my second purchase of trailhead pants. The first pair I bought on the original Kickstarter. That pair has been with me on the adirondack long trail (NPT 133 miles), and traveled with me over 2,000 miles on the pacific coast bike route for two months. I also own the coalatree puffy jacket, which came with me on my bike tour as well.
These products are a must have for any true adventurer. From the price point, to the quality of the product, I will continue to wear and promote this company.
My enthusiasm has only led my friends and family to purchase coalatree items of their own; everyone who gets something is more than satisfied.
I wear these pants more than I probably should, and my jacket is an everyday item (winter,spring, fall, and summer) and I live in western NY.
Must purchase
I bought these pants for an upcoming adventure trip to Cost Rica and I think they will be perfect! I've only tried them on at home but I like the looks and feels of them and think they may become my favorite pair of pants! I wish they were a little loser on the lower legs but thats ok.
Amazing
I keep loving these pants more and more as the days go on. I have one pair and some shorts. They are so comfortable, deep pockets, and super durable. I have scrambled over rocks and snow in them and they don't even get scratched let alone ripped. The water proofing is awesome. Anytime I spill any water on me, which happens regularly, I don't have any water stains. They work great for the outdoors and surprisingly well for work. Most people think they are dress slacks. My favorite pair of pants.
Fantastic!
These are literally the perfect pant! I worked in a cold and wet environment and do a lot of bending, stooping and climbing. These pants move with you so I'm not pulling them up all day long, they are waterproof which is exactly what I need, plus stain proof because that couldn't hurt ,right? The reinforced crotch on the pant is the best, I have thicker thighs and always wear out that thigh section on every pair of pants I've owned and they have stood up well thus far. Worth the price if you are scared about that too, you should get your moneys worth from these pants
Great Service. Great Pants
I had to return the first pair I ordered due to fit, but the customer service team was so easy to work! The new pair of pants fit perfectly and they are SO comfy and light weight. Can't wait to get more!
Hands down the best customer service
Not only do they make an Incredible product that works great when out on the trail and in the kayak, They have the most remarkable customer service I have ever experienced. There was a small issue with one of the two pairs of pants I ordered and they were quick to respond and immediately sent me back a new pair without hesitation. I love everything this company stands for and how professional they are. Thank you Sierra, for your outstanding professionalism and courtesy! I'm a forever supporter👍🏼
FAV pants!!!
these are my ALL TIME favorite pants to wear!! looks good with sneakers, boots, birks - they really look good with anything. they are super comfortable and the fact that they don't stain, smell, & are water resistant is amazing.
i am 5'2" 107 lbs & bought an extra small in the black slim fit and i'm usually a size 2. they're just above my ankles and it's perfect!!