Whistler Windbreaker
Whistler Windbreaker Size Guide
A Minamalist Jacket with Self-Healing Tech
The Whistler Windbreaker is self-healing, featherweight, and functional—in short, it's the jacket that does it all. Your perfect travel piece, the Whistler will keep you protected from winds while serving as an easy-to-pack layer, from the mountains to the city and beyond.

Heal rips and tears in seconds
Our revolutionary HiloTech Self-Healing material ensures your jacket won't be lost to snags, tears, or punctures. Simply rub your fingers over the material wound and watch the magic happen. The heat and friction from the rubbing work together to make the jacket new again.

Take it on-the-go
Lightweight and versatile, the Whistler Windbreaker packs into its front chest pocket. Take it on all your travels so you're prepared for anything.

Featherweight
At just 7 oz, the Whistler is easy to stash in your daypack, car, or gym bag so it's there when you need it.

Secure Stash Pockets
With a zippered chest pocket for your wallet or phone, two zippered hand pockets, and internal glove or beanie compartments, your goods will be kept safe.
your new travel companion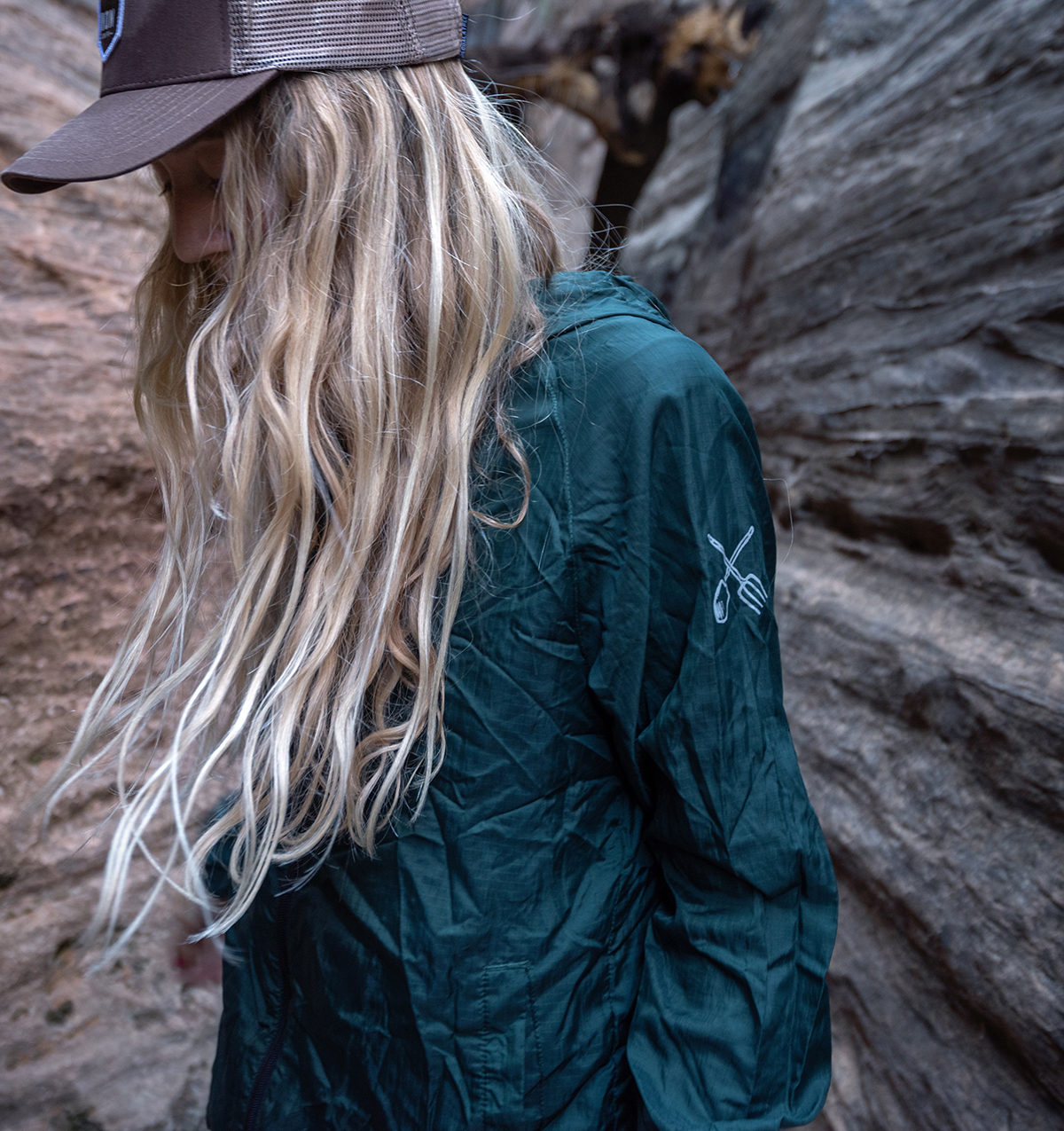 A Jacket of all trades
The lightweight Whistler Windbreaker not only heals itself from any punctures or tears, but is versatile enough for just about everything. With a DWR application for light precipitation and elastic drawstring to keep out the wind, the Whistler is the perfect jacket to take on all your travels.
100% nylon HiloTech Self-Healing fabric with DWR coating
Machine wash cold with like colors, hang dry. Do not bleach. Do not iron. Do not dry clean.
Just what I was looking for
It finally got warm enough to wear my Whistler, and I'm really enjoying it. It's a great top layer, cutting wind and with enough (and easily accessed pockets. I also wore it out in a light rain, and it's resistant enough that I stayed dry for a 15 minute walk with my infant daughter.
Also, happy to have something that packs down easily so that I can have it on hand "just in case" when I'm out (ok, that's a lot less right now with social distancing, but that will change eventually...)
Lightweight jacket
All good, fits perfectly and keeps the wind off a treat.
Not had to try to fix it yet, nice colour red.
So far, so good
Unfortunately I missed the deadline to preorder this, so paid more for it than I had hoped to, but so far I am liking it. I have been able to use it once since purchase, in moderate rainfall on the beach in Oregon. Layered over a Patagonia Better Sweater, I was warm and dry enough to feel good about my purchase. The DWR held up for quite a while until the rain got heavier, but even when the jacket "soaked through," I still didn't get drenched and the water never made it all the way through my Patagonia. The jacket dried very quickly, and functioned very well as a windbreaker! I have not had to test the puncture healing yet, as I did not catch any snags on my adventure. I will be using this as a light spring jacket, as my cycling jacket, a light to moderate precip shell, and for everything in between. The packable aspect is a huge plus for me as I invest in high quality things I can pack down small to easily take camping with me on the motorcycle, or in a lightweight hiking hands free day pack. I am 5'7" average build and own the women's camper jacket in a medium, and the windbreaker in a small is perfect, just roomy enough to layer over anything else I wear, but not so roomy as to look bulky...just right for a windbreaker! I bought the green because it is my favorite color and matches my camper jacket and my puffy kachula. So, despite missing the sale I am very happy with my investment into this windbreaker, and would highly recommend it as an investment to anyone on the fence about it.
It was really worth the purchase
It's a really useful windbreaker and the material is perfect and obviously is as heavy as a feather. So it's the best option that you will have for any kind of travel.
Love the jacket!
I really love the jacket. Light weight looks good and does what the specs say; water resistant, breathable etc.
If I had a problem with the jacket, it would be the tightness around the chest. I am built like the preverbal 'brick s**thouse'. Even with the XXL size, it is very tight. If I need/want to layer clothes underneath, more than a t-shirt makes it too tight.
This would potentially cut out earning it in colder weather.
Other than that, it is fantastic. 5 Star!
Just right in early spring
It is most suitable for the cold season if it is hot and cloudy if it is sunny
It is easy towear it when Iwear it compactly if it is hot and is useful
Looks and feels good
Enjoyed it. Yet to really wear it and tryit out yet.
Great jacket
This jacket is exactly what I was looking for. It is small, light weight, keeps me warm and is windproof. During the winter period I wear this jacket more or less every day and was so happy about it. I can really recommend this jacket