Whistler Windbreaker
Whistler Windbreaker Size Guide
A Minimalist Jacket with Self-Healing Tech
The Whistler Windbreaker is self-healing, featherweight, and functional—in short, it's the jacket that does it all. Your perfect travel piece, the Whistler will keep you protected from winds while serving as an easy-to-pack layer, from the mountains to the city and beyond.

Heal rips and tears in seconds
Our revolutionary HiloTech Self-Healing material ensures your jacket won't be lost to snags, tears, or punctures. Simply rub your fingers over the material wound and watch the magic happen. The heat and friction from the rubbing work together to make the jacket new again.

Take it on-the-go
Lightweight and versatile, the Whistler Windbreaker packs into its front chest pocket. Take it on all your travels so you're prepared for anything.

Featherweight
At just 7 oz, the Whistler is easy to stash in your daypack, car, or gym bag so it's there when you need it.

Secure Stash Pockets
With a zippered chest pocket for your wallet or phone, two zippered hand pockets, and internal glove or beanie compartments, your goods will be kept safe.
your new travel companion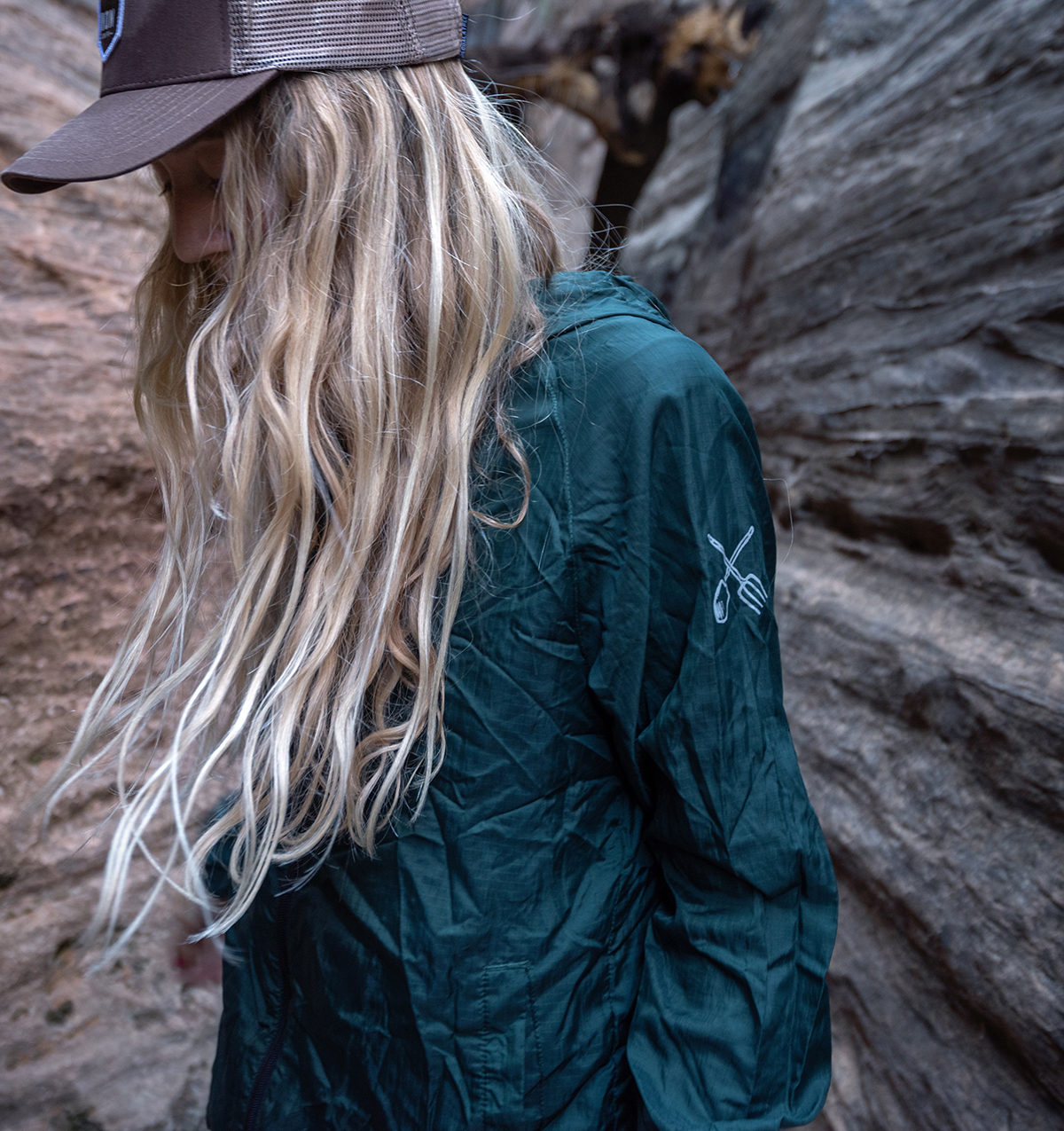 A Jacket of all trades
The lightweight Whistler Windbreaker not only heals itself from any punctures or tears, but is versatile enough for just about everything. With a DWR application for light precipitation and elastic drawstring to keep out the wind, the Whistler is the perfect jacket to take on all your travels.
100% nylon HiloTech Self-Healing fabric with DWR coating
Machine wash cold with like colors, hang dry. Do not bleach. Do not iron. Do not dry clean.
Outdoor apparel that goes beyond expectations
The color alone is eye-catching. Once you get your hands on the product, the immense happiness that comes with it is amazing. The product's quality, features, and look are great. I love how you can go from an outdoor adventure to walking the streets of Boulder, CO feeling like you fit the part - chic, and "handsome."
good choice
I had to order a larger size because, to be blunt, I'm fat. It fits perfectly, with one exception. Most jackets that have enough room around the hips have lots of extra room for the big shoulder muscles that I don't have. This jacket seems designed for a person with a normal body type, and I thank you for that. AND the exception is that the sleeves are extra long on me.
That might be an advantage on days when I've forgotten my gloves.
I like the tightly woven nylon cloth. It really does break the wind. I have not worn hoods for many years but we've had enough cold windy days that I know I am going appreciate having this one.
Perfect
Perfect weight for spring time snowboarding and mountain biking. Can pedal trails with it and not over heat like past windbreakers I've bought. Can layer a hoodie underneath to stay warm if needed while snowboarding. Packs into itself small.
Perfect Wind Breaker
I use mine as an outer shell and layer.
Perfect size.
Proper fit.
Outstanding quality.
Considering buying another in a different color to switch things up.
Makes me look better than I actually am. 😆
Whistler Windbreaker Jacket
I have thoroughly enjoyed wearing my Whistler Windbreaker Jacket and have received a lot of compliments from others saying how nice it looks on me. I find the jacket to be very roomy, lightweight and has plenty of pockets in the places where I want them. It is so amazing that it is made from Recycled Coffee Beans!!!!!
Super light jacket
Not had chance to fully test this jacket out yet but first impressions are good - roomy, light, protects against the wind and comfy to wear. Should maybe have sized down but it means in winter I can wear it over thicker sweaters without it feeling too tight.
Bought this as a gift to the boyfriend. He said it looks good hanging in the closet.
-----
On a serious note, we haven't had a chance to test it outside yet, but we do love the quality and the materials so far. Lightweight and comfortable.
Won't leave my hiking bag
I haven't had a chance to test the healing feature (and hopefully won't need to) but this lightweight windbreaker has become a must-have in my hiking bag.