Evolution Hoodie: Made from Recycled Coffee Grounds
Evolution Hoodie: Made from Recycled Coffee Grounds Size Guide
MADE FROM RECYCLED COFFEE GROUNDS
Our most innovative product to date, the Evolution Hoodie has over 20 features for everyday wear plus travel and adventure! The zippered kangaroo pocket keeps your items safe and secure. Stash your phone where it won't fall out and break. Keep your passport secure from pickpocketers. Clip your keys and never lose them again!
made from recycled coffee grounds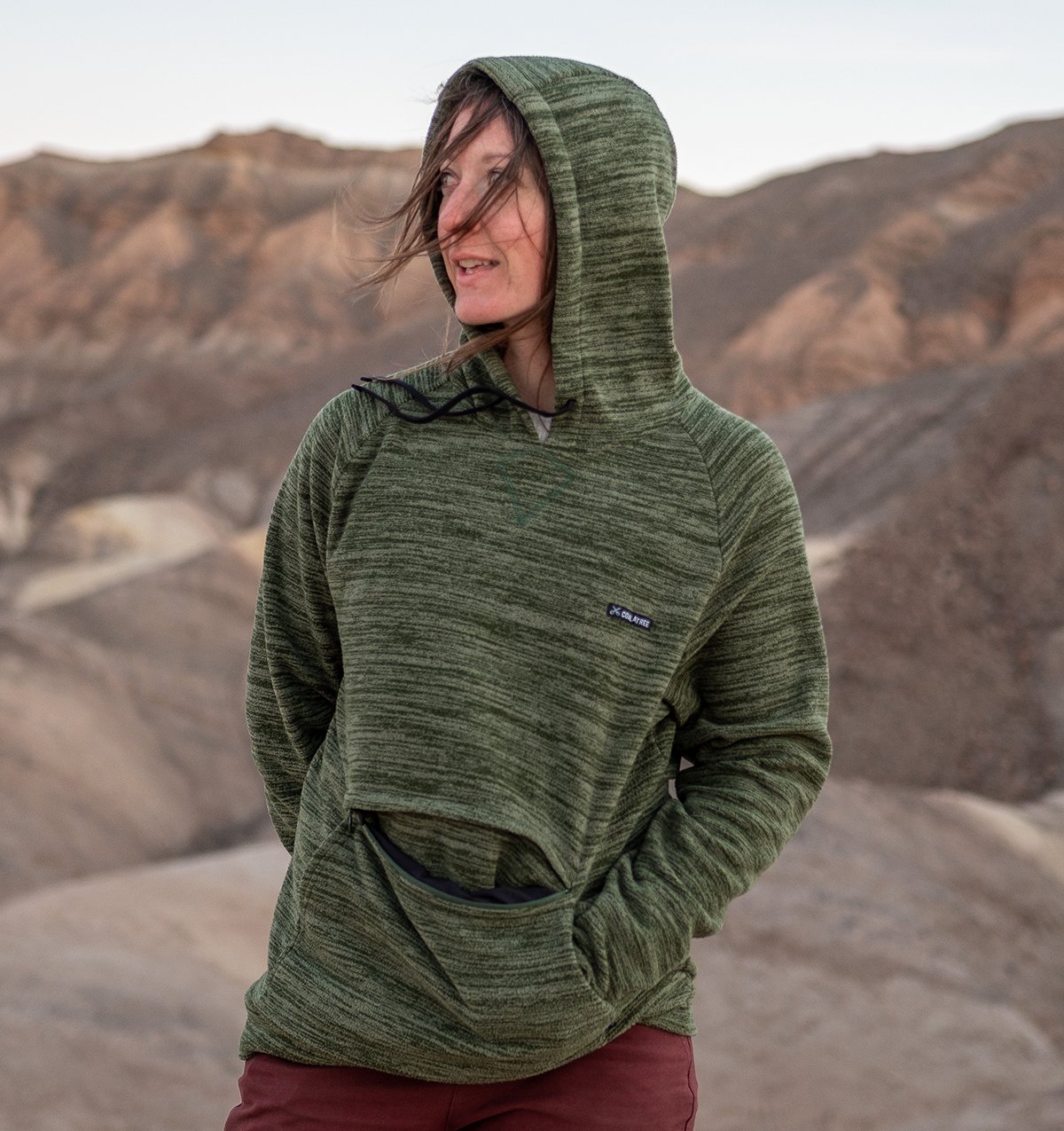 UNMATCHED SUSTAINABILITY
Spent coffee grounds are mixed and melted down with recycled plastic bottles to create the fibers for our incredible Evolution Hoodie. The result is a hoodie packed with features and finished with a water-repellent coating—perfect for all your upcoming travel and outdoor adventures, yet so soft and supple you'll never want to take it off!

READY FOR ADVENTURE
Pack it down small and keep it stashed in your pack. The Evolution Hoodie stuffs fully into the zippered kangaroo pocket and becomes a cozy camp or travel pillow.
ODOR-RESISTANT
Coffee is a naturally odor-absorbing material and by weaving the grounds into the fibers, odors are trapped as you sweat. Because the grounds are embedded into the fabric, this feature is permanent and will never wash out!
DRIES ULTRA-FAST
The Evolution Hoodie is designed to be worn on-the-go. The material is constructed with microscopic pores which increase its surface area. This means moisture is spread throughout the hoodie and the drying process is accelerated!
OVER 20 FEATURES FOR TRAVEL & EVERYDAY WEAR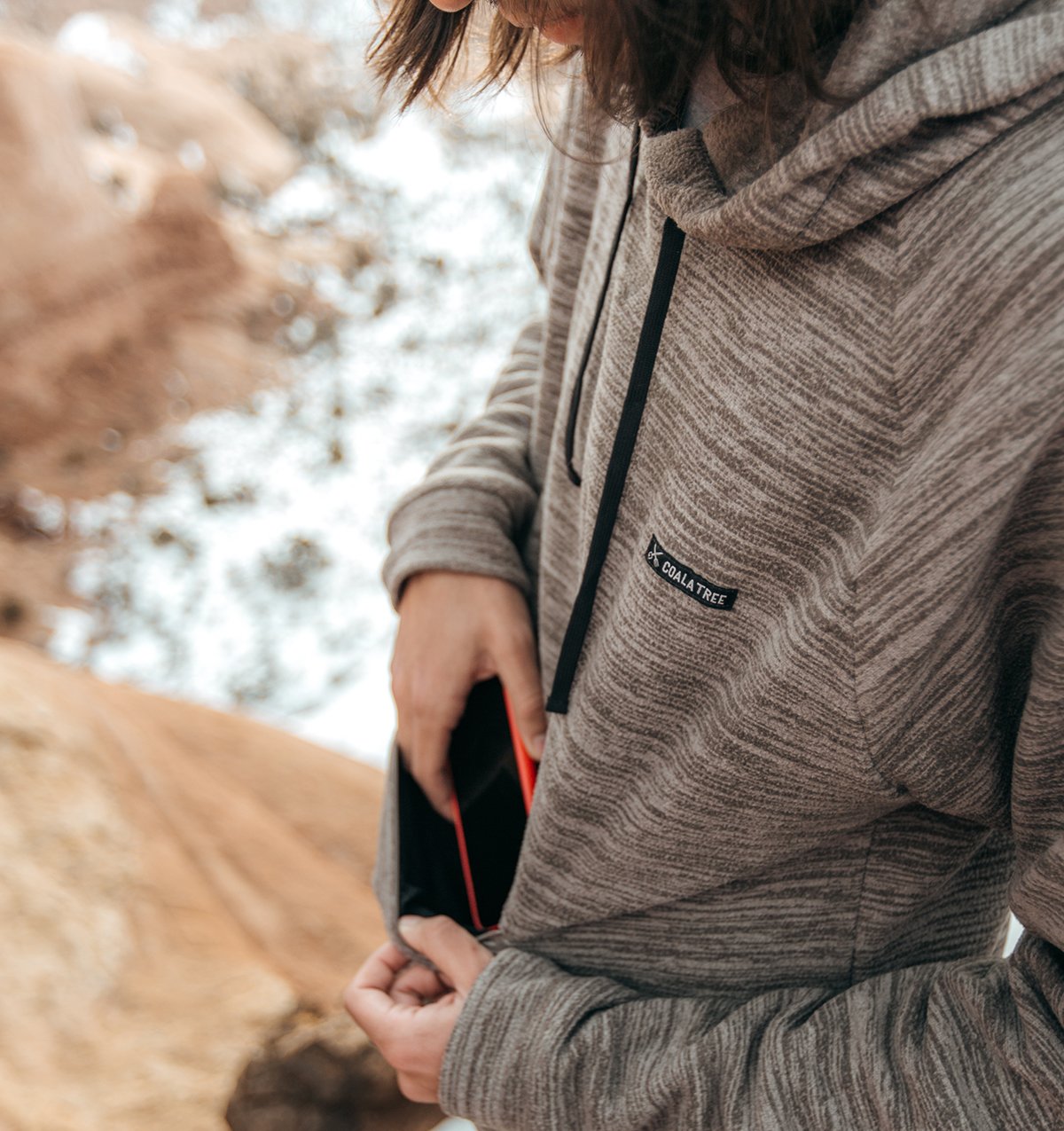 KEEP YOUR VALUABLES SAFE, ANYWHERE
Never worry again about losing your passport! The Evolution Hoodie has a secure zippered pocket so you can safely stash your valuables, plus a loop to clip your keys. No matter where in the world your travels take you, pick-pocketers don't stand a chance at getting your phone, wallet, or other valuables. Keep your mind at ease so you can relax and explore!
Fair Wear® bluesign® 60% polyester, 40% recycled S-Cafe polyester. Each hoodie contains 3 cups recycled coffee grounds and 10 recycled plastic bottles.
Machine wash warm, tumble dry low. Do not iron. Do not dry clean.
Packs Down Small
Hands down the cosiest comfiest coolest joggers I've ever had!
Big fan of all MTN2CTY garments! These have nice deep pockets with tiny zips (you can't feel them!) & a back pocket,same nice stretchy laces the hoody has and the trailhead pants. The zips are the same as they use on the switch back shirt/evo hoody -ingenious pockets on all. The whole MTN2CTY range from Coalatree is slick,my only gripe I have is the huge amount of import fees we have to pay to get them over the pond,that's not their fault tho. And tbh they're so comfy it's a cost worth paying. Colours are really nice too,I got green,purple and charcoal,but I like all of the men's colours. No size issue here so no exchanging needed,they're great if you do have a sizing snafu...My new fave Coalatree product,& my favourite pants for dossing about in. Wish I could afford every colour of these,same for their shirts and trailhead pants/shorts (the best 'stay dry' pants for cycling in a wet London) keep em coming Coalatree...
Best EVER!!!
I'm usually not one for hyperbole, but these sweats are the most comfy, coolest looking sweats ever. Everything from the pockets to the waist fit, to the cut. Warm, but not hot. I can't wait to put them on when I get home.
Super cozy
Perfect size & suoer cozy. Luv 'em!
Worth the wait
I'm very grateful for the two evolution joggers I bought - I love the design and the fit, they look amazing. Then they feel amazing, very comfortable and surprisingly warm! The pockets are large and it's taking some getting used to it, and they stay clean, fully waterproof (so much so my sweat would never dry), and odourless.
I haven't figured out the packing it in the pocket thing, which is just a bonus for an already amazing jogger!
Great joggers!
Love the feel... fits very well!
Another good work of Coalatree 🙌
So comfortable
These are the most comfortable joggers I've ever had. Warm yet breathable. The fit is great, and they wash well. Deep pockets are a plus, too.
As wonderful as advertised.
What else can be said about these. They're as soft, comfy, warm and wonderful as all the reviews state. Perfect for lounging around the house, wearing while running errands or taking to the outdoors.
Super comfy. Wish the colors were solid rather than striped.
When Coalatree said they were making the pants version of the Evolution hoodie, I pre-ordered ASAP. That was many months ago and I'm happy to report they're as great as expected. Super comfy for wearing around the house and warm and durable enough to take outdoors. I rotated between these the Trailhead pants on a recent backpacking trip to the Grand Canyon and they were perfect for what I needed.
I'm not going to dock a star for this, but I'd love to see the colors on these be more solid. They border on looking like the tiger-striped Zubaz pants from the 90s.