Trailhead Pants
Trailhead Pants Size Guide
Our Trailhead Pants come in two styles, Regular Fit and Slim Fit.
All measurements are for the garment and are not body measurements. Trailhead Pants have a stylish ankle-length fit and the inseam may be shorter than you are used to. The Trailhead Pant is unisex sizing and looks great on all genders.
If you're looking for the fit of our original Kickstarter pants, grab the Slim Fits.
"DAMN NEAR PERFECT"
They raised over $400,000 to become Kickstarter's highest funded outdoor pant. Durable, smartly built, and ridiculously comfy, our Trailhead Adventure Pant is revolutionizing the traditional recreation pant.
THE OUTDOOR PANT YOU CAN WEAR TO THE OFFICE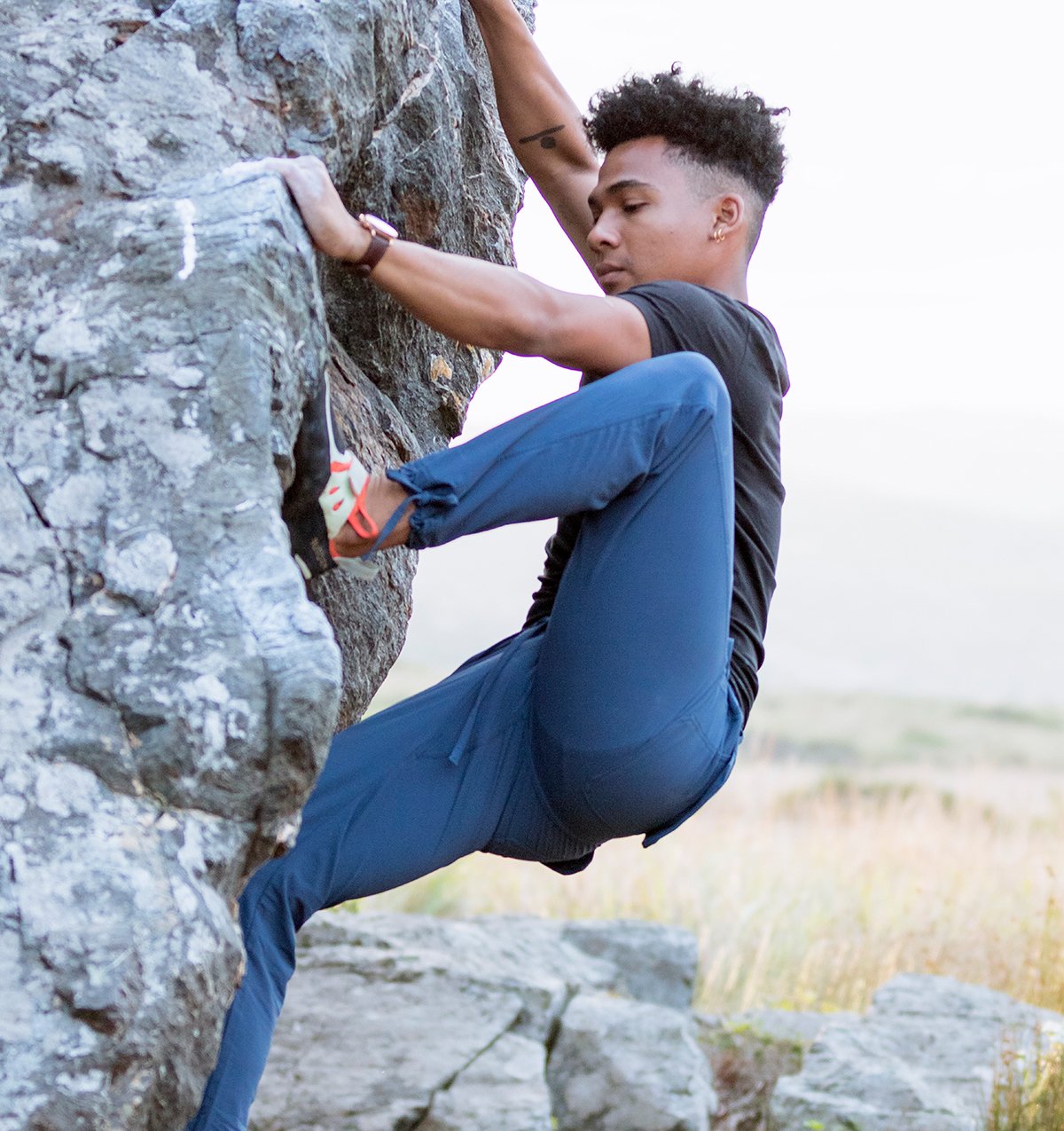 WATERPROOF & BREATHEABLE
Don't let a little water ruin your day. Our eco-friendly DWR finish not only repels water, but makes stains and spills bead right off, while maintaining all-season breathability.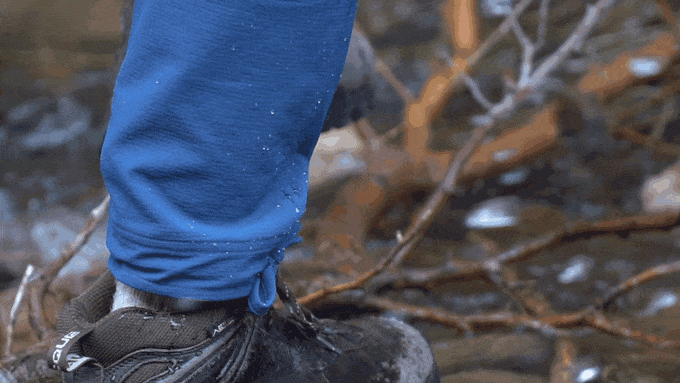 4-WAY STRETCH
Revolutionary four-way stretch features 360* of comfort and moves with you.

ANTI-MICROBIAL
Unique fabric inhibits the growth of bacteria so you can do more and wash less. This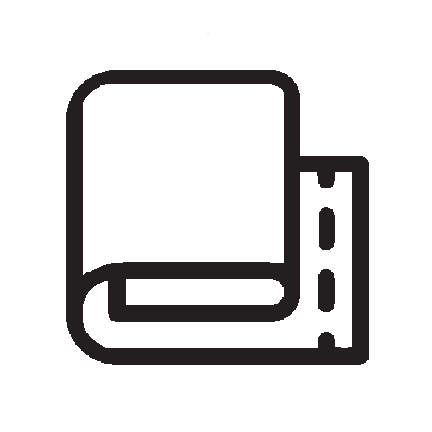 TEAR-RESISTANT
Constructed from durable ripstop nylon that stops tears before they start.
REVOLUTIONARY MATERIAL MADE FOR ADVENTURE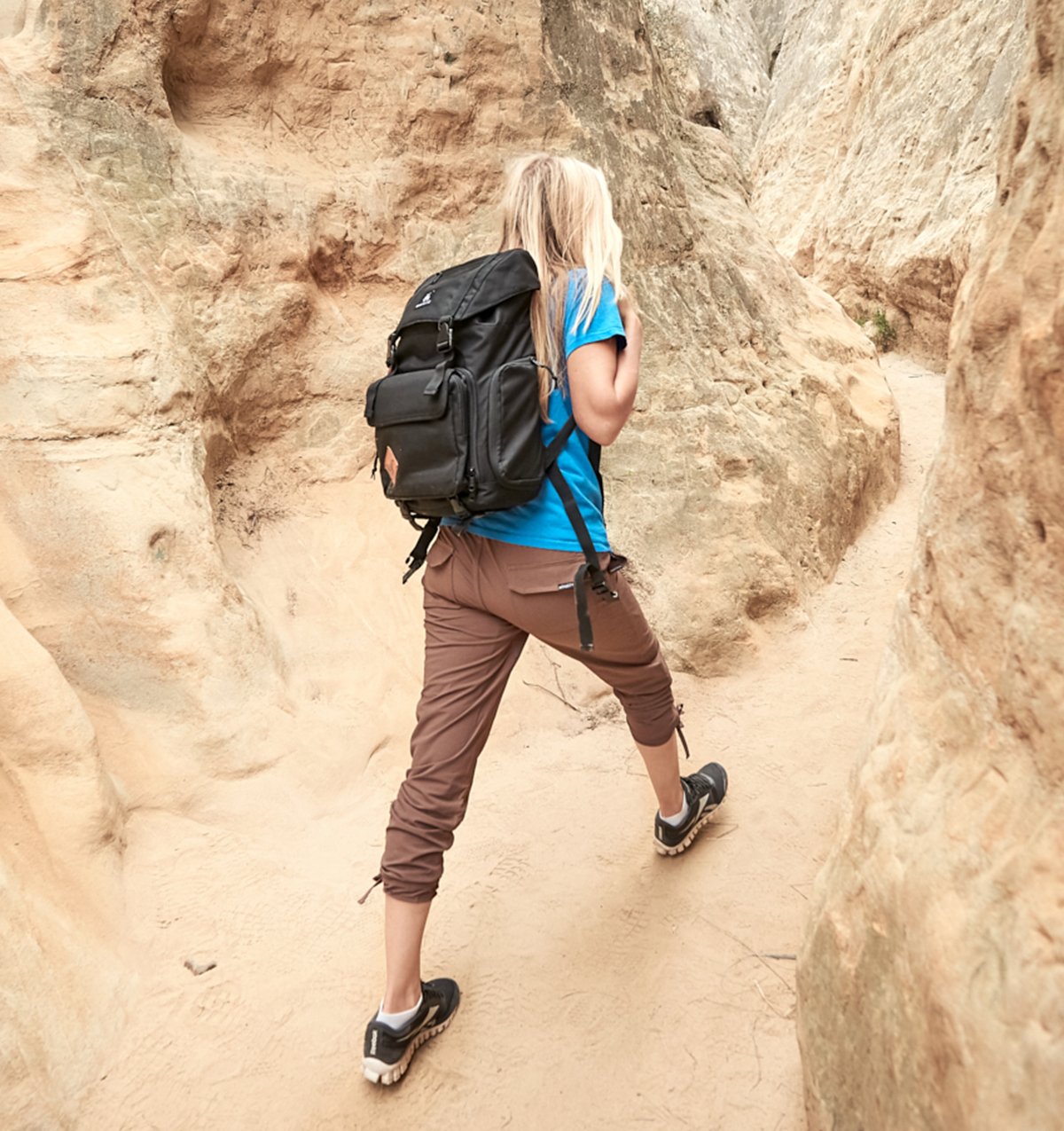 STUFF 'EM & RUN
Pack 'em down small by stuffing into the front right pocket. Wear them long or use the drawstring ankle ties to cinch them up to capris. No matter where you're headed, the Trailhead Pants are ready.
Waterproof and breathable, four-way stretch, antimicrobial, tear-resistant, packs down into front pocket for travel or for use as a small pillow.
Fair Wear® bluesign® 88% nylon, 12% spandex with DWR finish. Made from recycled materials.
Machine wash cold with other technical fabrics. To keep the DWR feature lasting long, always hang dry. Do not bleach. Do not iron.
Still buying them
Love these pants. Had to get the new sand color. I have bought L and XL. Love the large fit. But glad for the two XL I have for a looser fit in winter.
Awesome durable and comfortable.
Hiked in the Rocky Mountains with these for days. Comfortable, durable, and water resistant. I am 5,10 175lbs. Thicker legs so needed the large. They are tight around the calf (which looks good) but just make sure to get the right size!
buy once, cry once
i've had these pants for two years now and they have definitely stood up to alot of abuse. i wear these for work, mountain biking, hiking, and under my drysuit when whitewater kayaking. pretty tough, as i've fallen pretty hard in them- catching a gutter with the front trucks of my skateboard moving at the speed of mach jesus. even then, the hole in the knee is miniscule. i cut the strings out of the ankles and waist, didnt seem to need them, but the waist strings would still be nice to have (guess i better buy another pair ;) great for damn near anything. super stretchy, and reinforced crotch area for even the thickest of thighs, and comfortable enough to sleep in. water beads off them still, which is insane. i could go on about these pants but i'll let you try a pair yourself. thanks coalatree!
Best pants and super good customer service
I love this company and especially these pants. Will be buying more.
awesome pants!
I wasn't sure what size to order, ended up going with a Small in the Slim fit. Pretty perfect. For reference I am 5'6" 138lb. I wish they were a touch shorter like a jogger but since they are unisex i get it. They aren't too long though, either. The fabric is a little weird at first but then you don't even know you have them on! Awesome stretch. In fact I was so sure the knees would get baggy but this is my 2nd day in them and they really keep their shape.
Finally I saw someone ask about dog fur sticking. I have a husky shepherd who is mostly white and her fur does not stick to the pants (black pants!).
Now how about a pair in camo??
I have three pairs of the slim fit pants and one pair of the regular pants. If you have thicker thighs, the regular fit might be a bit more comfortable. I am definitely in between and enjoy both styles. Honestly, the greatest pants find for comfort and activity. I have quit wearing jeans and have stopped trying to find other hiking pants. These pants are perfect for everyday use, hiking, climbing, hiking, running. I cannot ask for a better pair of pants.
Second pair; will get a third eventually!
These pants are great! I've had them in grey for about a year and I just got the green. I use them for fieldwork, hiking, kayaking, casual wear, and in the winter I wear them over leggings for the office.. so I wear them for everything! Women can't usually find flattering pants that can fit an iPhone in the front pocket. "Waterproof" is a bit of a stretch, they will repel water but don't expect to be dry during a downpour.