Trailhead Pants
Trailhead Pants Size Guide
Our Trailhead Pants come in two styles, Regular fit and Slim fit. All Measurements are for the garment and are not body measurements. Trailhead Pants have a stylish ankle-length fit and the inseam may be shorter than you are used to. The Trailhead pants are unisex and look great on both genders. 
"DAMN NEAR PERFECT"
They raised over $400,000 to become Kickstarter's highest funded outdoor pant. Durable, smartly built, and ridiculously comfy, our Trailhead Adventure Pant is revolutionizing the traditional recreation pant.
THE OUTDOOR PANT YOU CAN WEAR TO THE OFFICE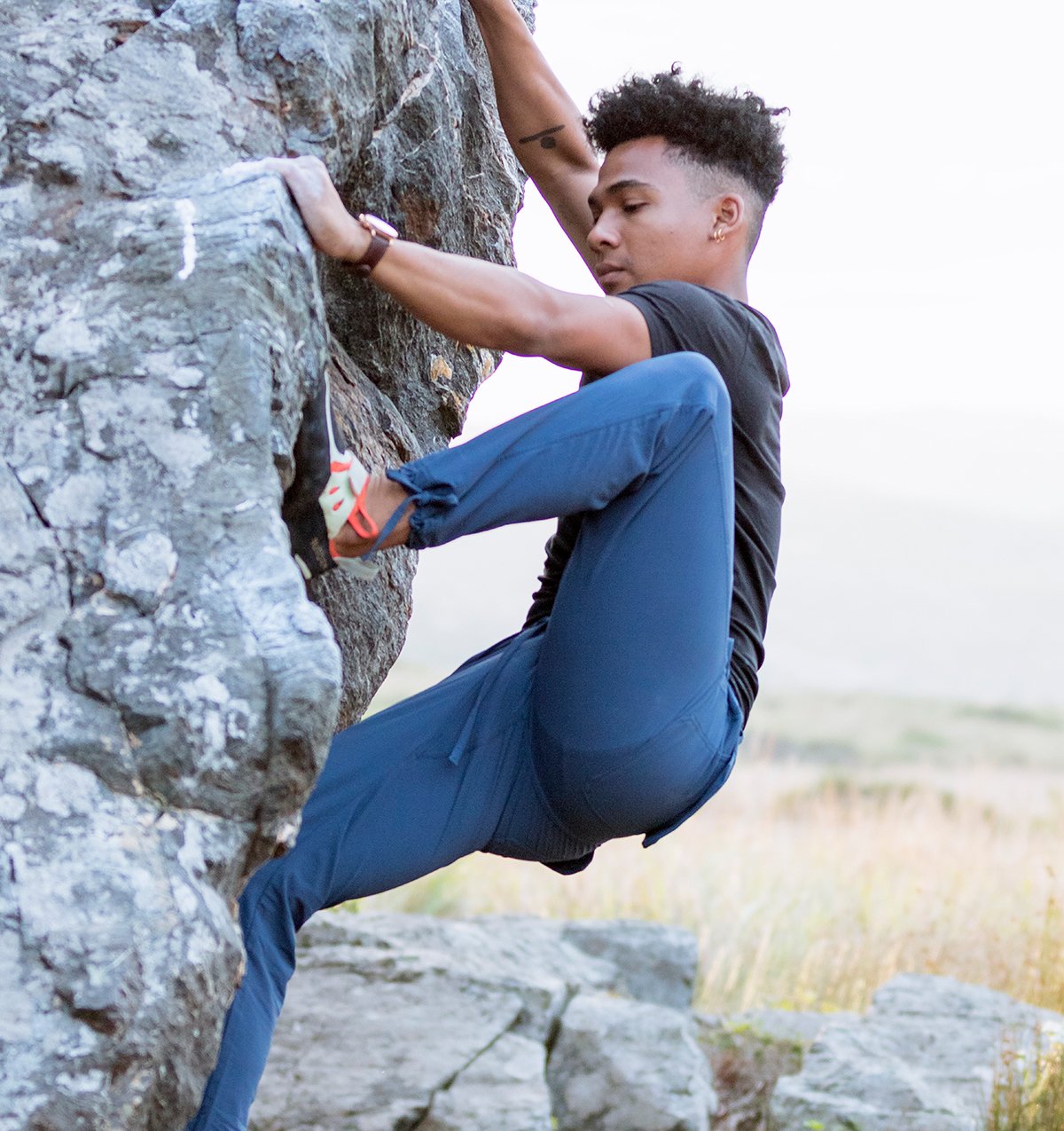 WATERPROOF & BREATHEABLE
Don't let a little water ruin your day. Our eco-friendly DWR finish not only repels water, but makes stains and spills bead right off, while maintaining all-season breathability.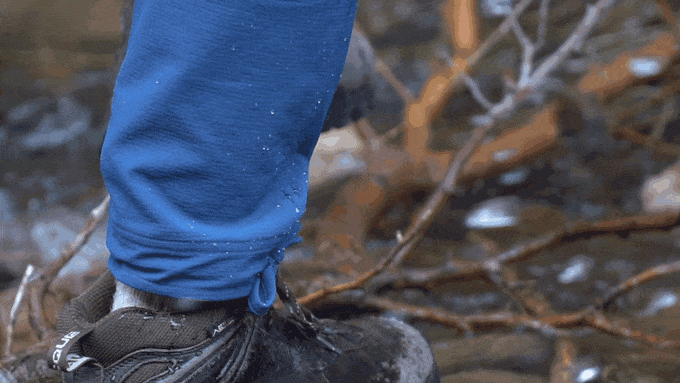 4-WAY STRETCH
Revolutionary four-way stretch features 360* of comfort and moves with you.

ANTI-MICROBIAL
Unique fabric inhibits the growth of bacteria so you can do more and wash less. This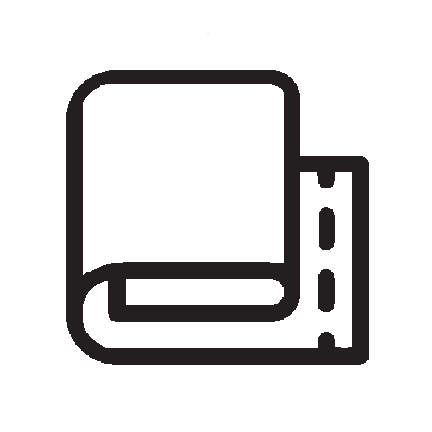 TEAR-RESISTANT
Constructed from durable ripstop nylon that stops tears before they start.
REVOLUTIONARY MATERIAL MADE FOR ADVENTURE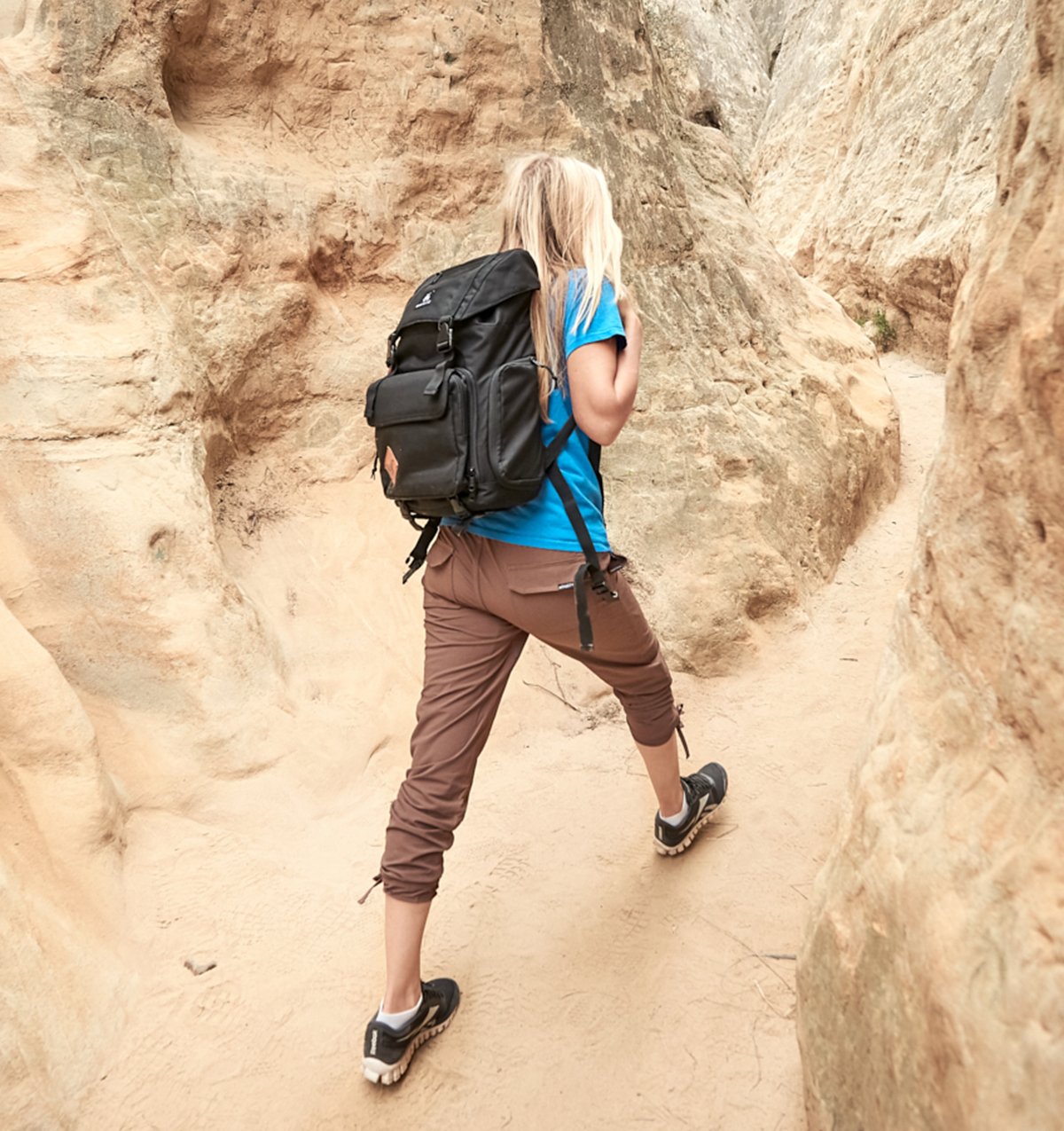 STUFF 'EM & RUN
Pack 'em down small by stuffing into the front right pocket. Wear them long or use the drawstring ankle ties to cinch them up to capris. No matter where you're headed, the Trailhead Pants are ready.
Waterproof and breathable, four-way stretch, antimicrobial, tear-resistant, packs down into front pocket for travel or for use as a small pillow.
Fair Wear® bluesign® 88% nylon, 12% spandex with DWR finish. Made from recycled materials.
Machine wash cold with other technical fabrics. To keep the DWR feature lasting long, always hang dry. Do not bleach. Do not iron.
Comfy, warm, versatile
Yup, these pants are great. VERY comfy & easy to move in. Great for hiking but also great for lounging! I bet these would be awesome for climbing but I haven't tested that out yet. They're very stretchy & light, feels like I'm not really wearing pants yet they kept me pretty warm while camping. They worked well with a base layer too. Just an overall comfy pant for any activity!! I wish they didn't sell out so fast!!!
Awesome pants
I love these pants!! They are not only the most comfortable pants I have had, they are the most functional! It's great to know that you can use these pants for any situation: from going out to eat in town to hiking some amazing trail right after. I'm already looking forward to my next pair!
Made with love, worn with love
I'm so happy with my purchase of Trailhead pants! They're effectively water-resistant, extremely comfortable, have great, deep pockets (although I do wish they had at least one zipper pocket), and are from a smaller company (it's great to be able to support a small business and buy direct!).
I went with the slim version, and while my heart was set on the Sand color I was advised to size up to a Medium, which was out of stock in that color/size combination. The black pants sit perfectly up on my waist, and are sleek and are a great versatile pant. If you need one pant to rule them all, these pants are the One Ring for me.
These are awesome pants I may buy a few more pairs there work great for hiking or other outdoor activities. They are also comfy enough to just wear around the house.
I bought these as gift for my daughter...and she loves them - so I guess everything is good...I thought the quality was great for the price. Many thanks !
Thumbs up!
Love my new pants!
Looking forward to getting out on some more adventures now. I also like to walk to work so these are great for rainy days.
I am < 5'6" and 130lb > with strong thighs/butt so i always have a hard time finding pants that fit but, I ordered a
< regular/small > and they fit great (they gently hug my thighs but aren't too tight)
Great deep front pockets, good stretch and love the belt loop feature!
There was clearly a lot of thought put into the design of these pants.
I would love to order another pair but they took a long time to get to the EU and the duty was expensive :( maybe in the future.
Highly recommend
Love these pants- wore them hiking in Joshua tree NP and comfortable
for travel on plane. Olive color is unique shade of green that really stands out.
These are the Hands Down the Best Pants I Have Ever Put On My Legs
<5'1" 120lbs, size slim/small> I am obsessed with these pants. The waterproof stretchy material is super comfortable, the ties at the ankles are cute and practical. The pockets in these !! So many pockets! The front pockets are deep and secure and even have a tiny loop at the bottom for fastening keys. Tiny pocket in the inside of the waistband for small stuff. They can be worn mid rise or high rise depending on your preference but they fit me well high rise.
I've worn these backpacking, day hiking, on long car rides, lounging at home, and at work. A couple of my friends even got these pants after seeing them. I literally cannot stress enough how amazing these pants are.