A Classic is Reborn
Coalatree's original Haswell Survival Knife was made in extremely limited quantities and sold out in no time. We've spent the past four years searching the globe for a way to bring this unique, one-of-a-kind survival tool back, without sacrificing an ounce of quality or craftsmanship.
"Beefy, with rugged good looks."
ONE-OF-A-KIND
Each Haswell Knife is hand-crafted with care and forged from the most durable, long-lasting materials. Whether you're an expert bushman or a casual camper, the Haswell Knife will get the job done.
HAND-FORGED
Skilled tradesmen have honed their craft to bring you this unique, one-of-a-kind survival tool.
BUILT TO LAST
Made from 1095 high-carbon steel, the Haswell Knife features a full-tang blade designed to last a lifetime.
RELIABLY TOUGH
Both the knife and sheath are made with brass rivets, designed to take any amount of abuse.
YOUR COMPANION FOR THE OUTDOORS
The Scandi grind blade is perfect for bushcraft and outdoor survival. The wedge-shaped edge allows for maximum efficiency in cutting, batoning, shaving, and more.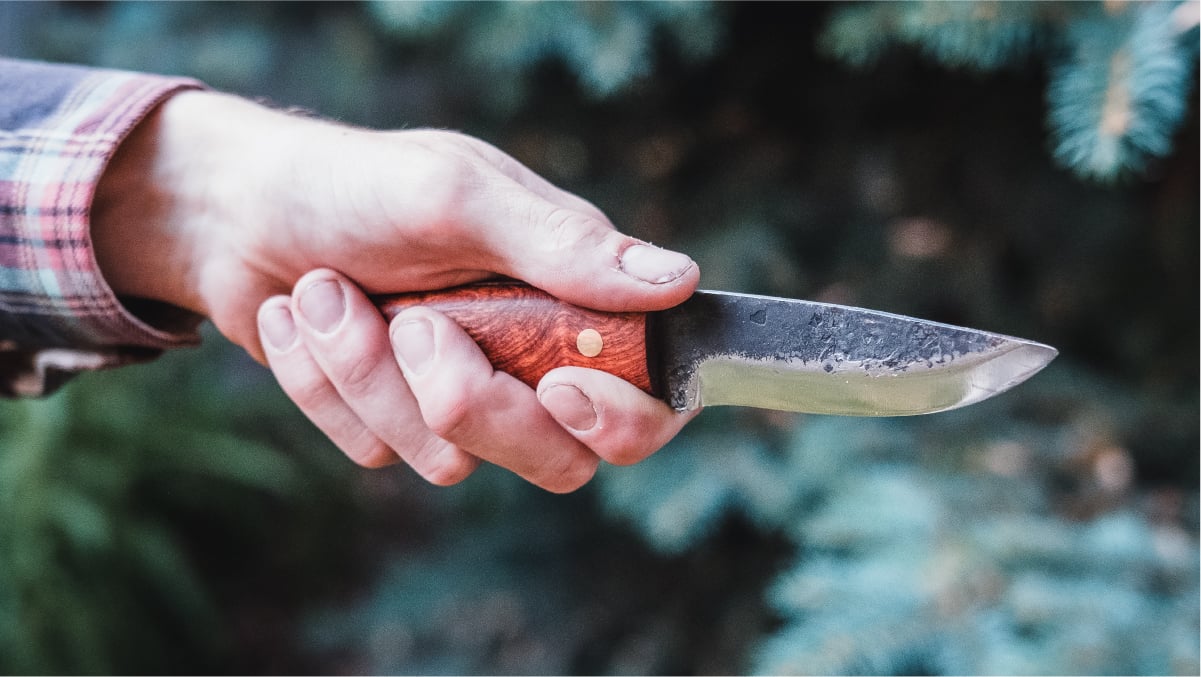 4" blade length, 8" overall length. 3/16" tang with Scandi ground edge
1095 High-forged Carbon Steel
Brass rivets, walnut handle, veggie-tanned leather sheath
Haswell Survival Knife
I got mine from a subscription box called Bespokepost and let me tell you it's an awesome knife and it's insanely sharp out of the box I've got big hands it fits in my hand perfectly I'm definitely be putting this in my Bugout bag!
Haswell survival knife
I received the haswell survival knife in my monthly battle box. The best knife I have received so far. It is gorgeous craftsmanship. The blade is great and the sheath is also great.
Pretty nice knife
This knife is very nice. I was very surprised when I received it. The quality is very good. It's very sharp, as I have used it a few times to "shave" a little hair off my arm just to test its sharpness. Glad I got it in the beginning when it was under $100
The last knife I should need
Excellent craftsmanship, received mine a couple days ago. I live in a remote area in the Appalachian mountains, this takes care of me well. Easy to carry all day and perfect length for me to easily cover up when in town. Blade is well made including the heat treat usually only seen by the manufacturer, nice rugged touch. Walnut handle seems to been made exact fit for me. Brass rivets and full tang, what could you ask more for.
Impressive
I was looking for an all-round knife that would suffice for camp chores and bush craft as well as heavier use such as batoning larger pieces of wood. This knife satisfies all these needs at a reasonable cost. This is a substantial tool that would withstand considerable abuse if necessary which may be why it's called a survival knife. The carbon steel blade and scandi cut make it easy to sharpen.
On top of that the knife, handle and the sheath are beautiful pieces of workmanship. Something that I will definitely want to hand down to future generations. It should last many lifetimes.
Expectations exceeded.
As this product grew closer and closer to release I began to be more and more excited about receiving it. I really like my knives and they all have a served me well. This one arrived and I quickly open the Box only to have my jaw drop on the floor. The leather sheath is well constructed and Has natural tones that compliment the handmade knife. As I first laid eyes on it, it was the blade that drew my attention to. It is not only beefy and functional, but a work of art in itself. It is beautifully textured and has a coating of carving that allows the blade itself to stand out. You can tell that it has been and sharpened and honed. The handle of the knife sits in the hand beautifully and is extremely comfortable to wield. This knife is very well built and has become my choice for my everyday carry. I cannot wait to Hit the trails and conquer Peaks finding adventure With this at my Side. I know that I will form many memories with this beautifully Crafted Knife, and I will be buying another to gift to my daughter as her 1st survival Knife
WOW.
Just received my Haswell knife and all I've got to say is WOW. Once I held the knife in my hand, I knew this knife was something else. It feels great, and looks even more beautiful in person. Amazing work guys!
So far so great!
Initial opinion about this knife. I just recieved the new Haswell. First of all, it's gorgeous. Very polished design. From the super smooth walnut grip with perfectly placed brass rivets, to the rough mill scale on the unfinished areas of the blade. It really is a well thought out piece of hardware. The balance between raw steel and honed hardwood reflects the balance of the blade itself. It is so comfortable in the hand that it's hard to put it back in the sheath. All that's left is taking it to the woods and beating the h#!! out of it.