Evolution Hoodie: Made from Recycled Coffee Grounds - Oatmeal
Evolution Hoodie: Made from Recycled Coffee Grounds - Oatmeal Size Guide
MADE FROM RECYCLED COFFEE GROUNDS
Our most innovative product to date, the Evolution Hoodie has over 20 features for everyday wear plus travel and adventure! The zippered kangaroo pocket keeps your items safe and secure. Stash your phone where it won't fall out and break. Keep your passport secure from pickpocketers. Clip your keys and never lose them again!
made from recycled coffee grounds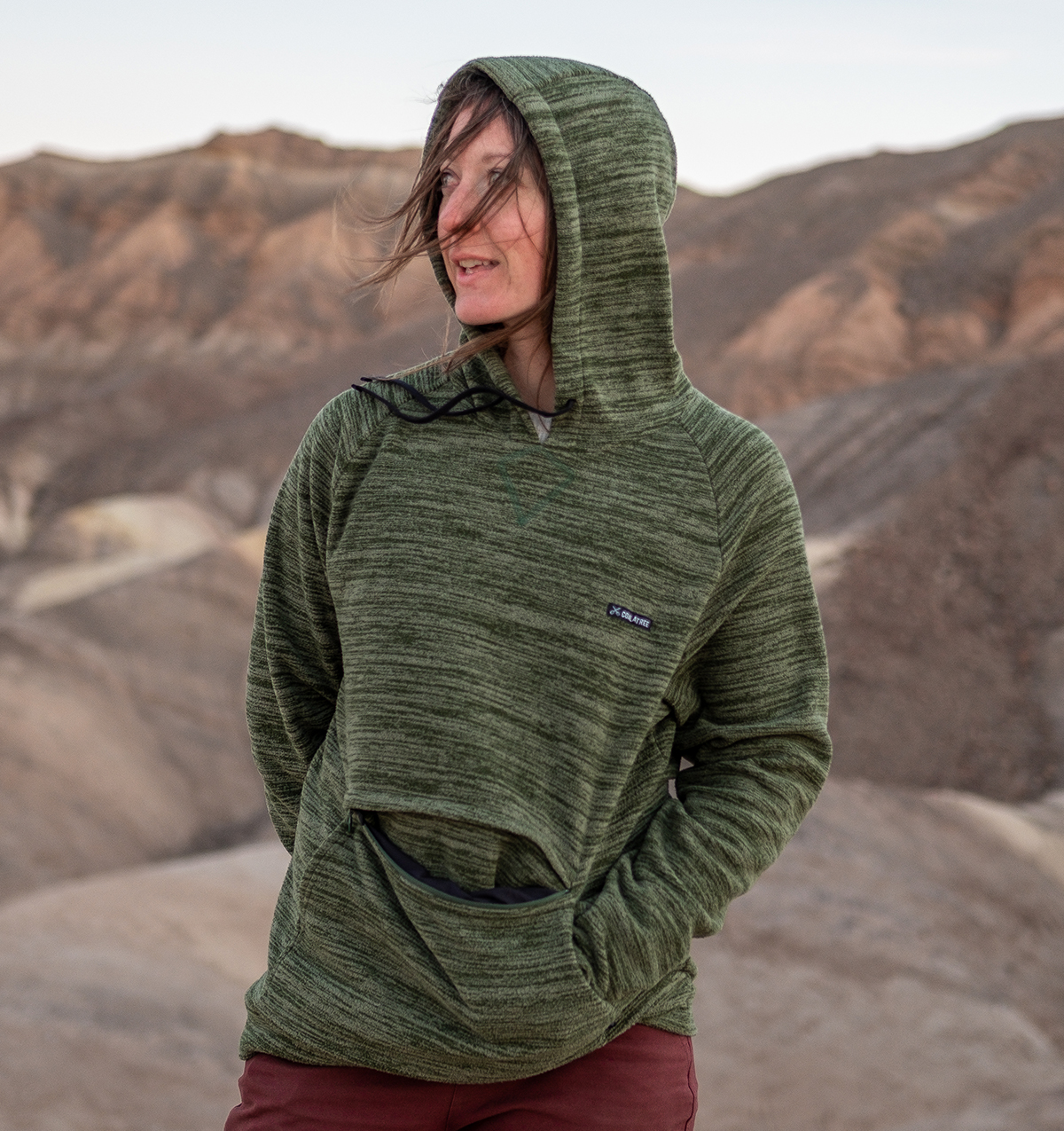 UNMATCHED SUSTAINABILITY
Spent coffee grounds are mixed and melted down with recycled plastic bottles to create the fibers for our incredible Evolution Hoodie. The result is a hoodie packed with features and finished with a water-repellent coating—perfect for all your upcoming travel and outdoor adventures, yet so soft and supple you'll never want to take it off!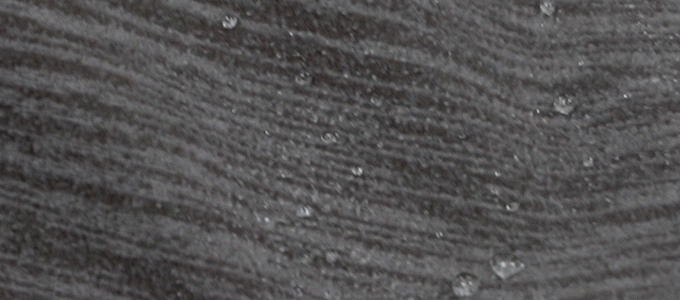 READY FOR ADVENTURE
Pack it down small and keep it stashed in your pack. The Evolution Hoodie stuffs fully into the zippered kangaroo pocket and becomes a cozy camp or travel pillow.

ODOR-RESISTANT
Coffee is a naturally odor-absorbing material and by weaving the grounds into the fibers, odors are trapped as you sweat. Because the grounds are embedded into the fabric, this feature is permanent and will never wash out!

DRIES ULTRA-FAST
The Evolution Hoodie is designed to be worn on-the-go. The material is constructed with microscopic pores which increase its surface area. This means moisture is spread throughout the hoodie and the drying process is accelerated!
OVER 20 FEATURES FOR TRAVEL & EVERYDAY WEAR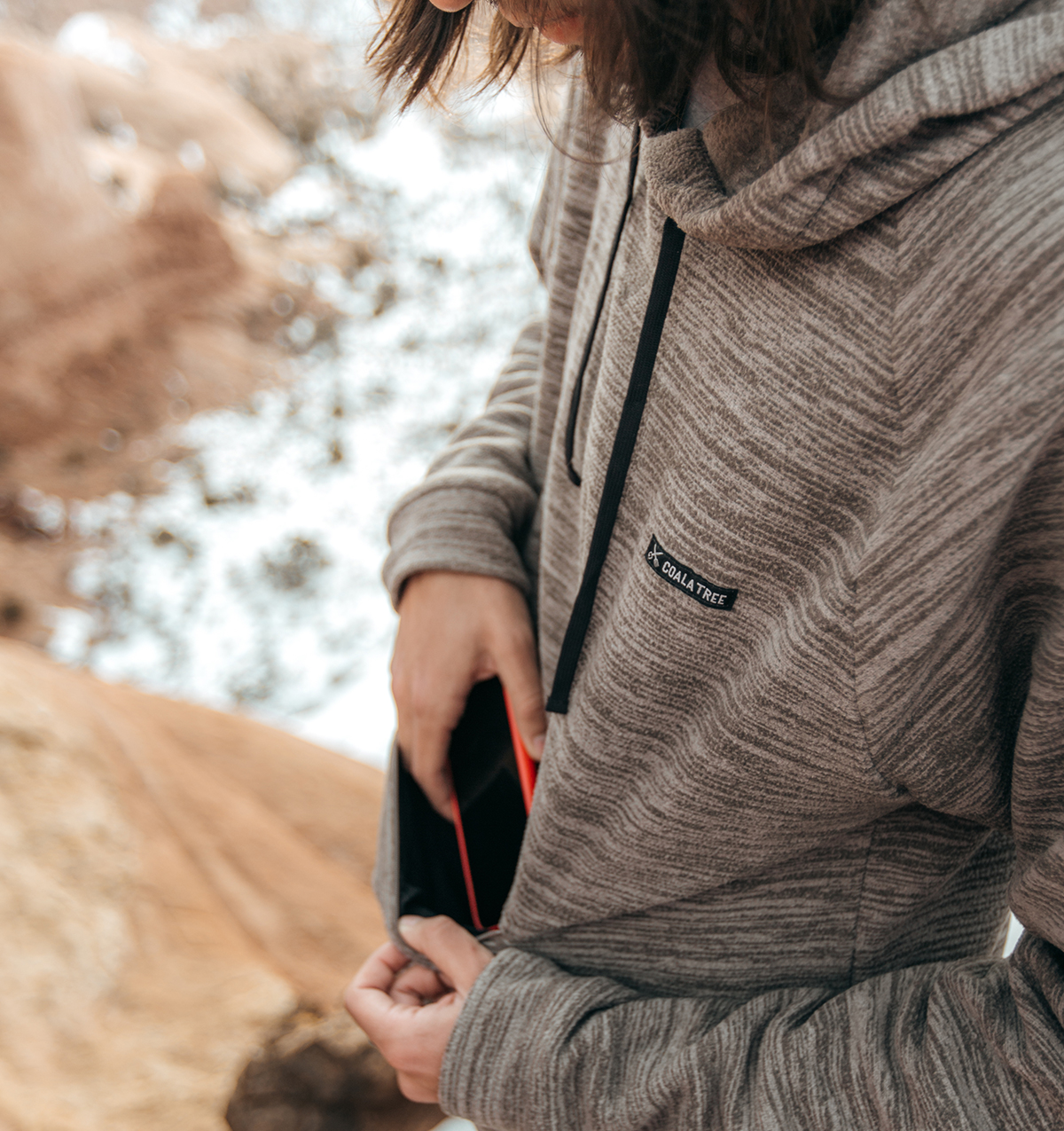 KEEP YOUR VALUABLES SAFE, ANYWHERE
Never worry again about losing your passport! The Evolution Hoodie has a secure zippered pocket so you can safely stash your valuables, plus a loop to clip your keys. No matter where in the world your travels take you, pick-pocketers don't stand a chance at getting your phone, wallet, or other valuables. Keep your mind at ease so you can relax and explore!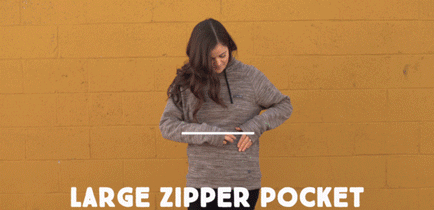 bluesign® 60% polyester, 40% recycled S-Cafe polyester. Each hoodie contains 3 cups recycled coffee grounds and 10 recycled plastic bottles.
Machine wash warm, tumble dry low. Do not iron. Do not dry clean.
Packs Down Small
Nice Hoodie
The hoodie is super soft and the sizing is spot on in my opinion. I got a couple compliments my first day wearing it and they asked where I got it. I will get another one in the future.
Every. DAY!
We have 3 Coalatree hoodies at our house: two are mine and one is my husband's. We can't speak to how well they work for traveling since we've been quarantined for most of the month, but I *can* tell you, we wear them every darn day! They are so comfortable and are the perfect weight and warmth for when I get chilly working from home, during the day. I also just got a puffy kachula blanket and absolutely LOVE it. It is perfect for being stuck inside and keeping warm and cozy watching movies. I especially love that I can turn it into a pillow and stow it away neatly, when not using it as a blanket. Seems like everything Coalatree makes is rad! I want to get a couple other blankets for kiddos, but have to save up for them.
Softest hoodie I own
New go to for lounging at home, the crag, or in camp. Had to get one for my fiancé so she would stop wearing mine.
My new favorite
Wow! This hoodie is incredibly soft. I've been using it a lot lately as it's quickly become my daily hoodie. I wear it either on its own or with layers. The front pocket is wonderful for storing glasses, headphones, snacks, whatever! I love the individual pockets inside as well which keeps the larger pocket organized.
The size was perfect and a Medium fit me just perfectly (6' Male, 170lbs).
I luz it
So I love it the color the softness the inexplicable transformer nature that turns it into a neat little pouch. And those thumb holes tho very comfy... But what I feel I should address is I'm a larger person and I was worried about the fit and while I did get the 2x it is perfect. I would say I don't think it runs small in case anyone else was worried about it.
All you need!!
This is the last hoodie you'll ever need. So lightweight, soft, warm and flattering. I pop on my earbuds for my hike and the cord hides neatly inside the super stealth zippered pocket along with my keys and cards without having to lug a bag or wallet. All you need in one.
3rd hoodie
This is my third hoodie, yes I love them!