Trailhead Pants - Black
Trailhead Pants - Black Size Guide
All measurements are for the garment and are not body measurements. Trailhead Pants have a stylish ankle-length fit and the inseam may be shorter than you are used to. The Trailhead Pant is unisex sizing and looks great on all genders.
If you're looking for the fit of our original Kickstarter pants, grab the Slim Fits.
How to Measure
Small
Medium 
Large
X-Large
Want to see how these compare to the Slim Fit Trailheads? Click here >
'Damn Near Perfect'
They raised over $400,000 to become Kickstarter's highest funded outdoor pant. Durable, smartly built, and ridiculously comfy, our Trailhead Adventure Pant is revolutionizing the traditional recreation pant.
The Outdoor Pant You Can Wear to the Office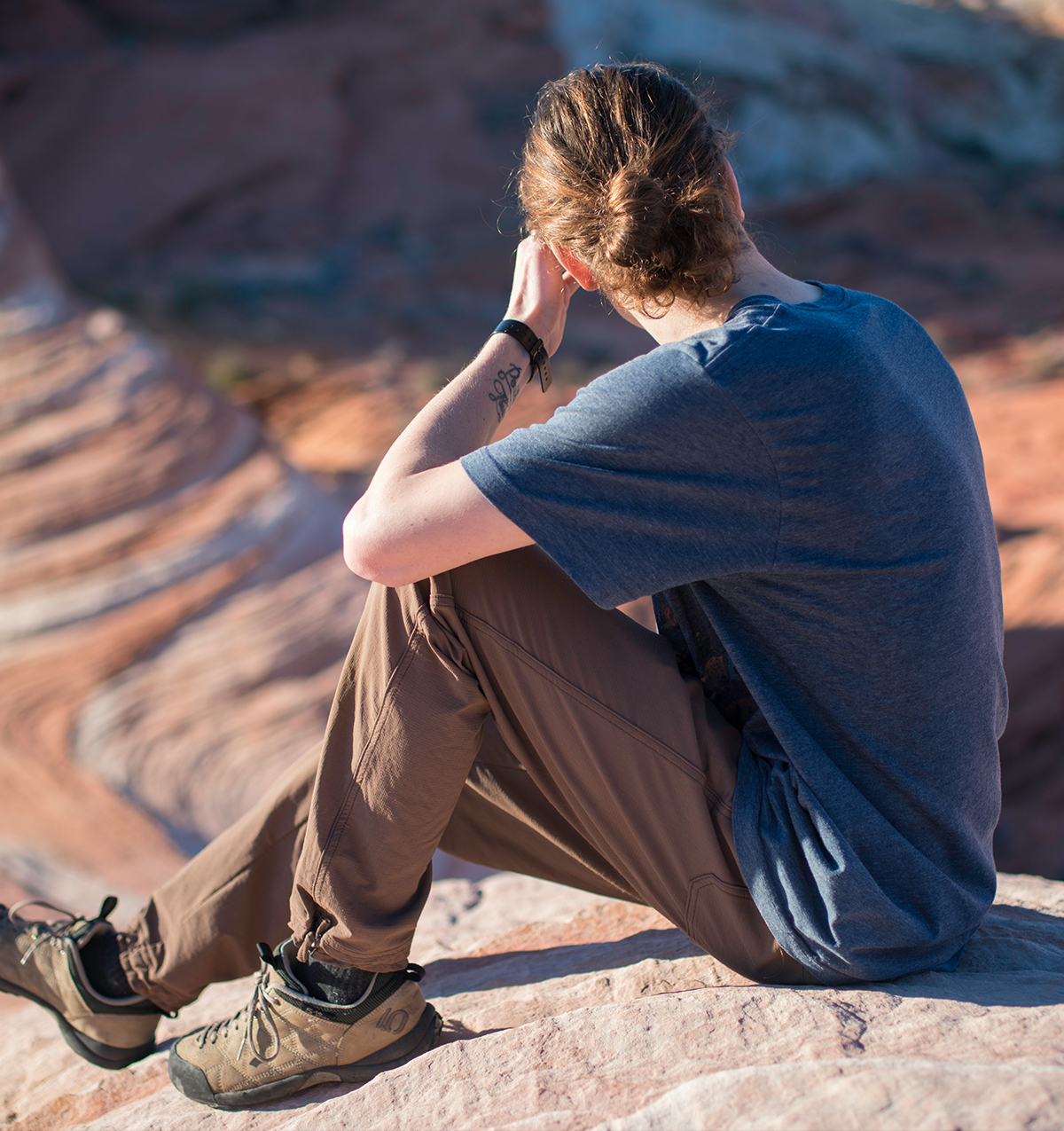 Waterproof & Breathable
Don't let a little water ruin your day. Our eco-friendly DWR finish not only repels water, but makes stains and spills bead right off, while maintaining all-season breathability.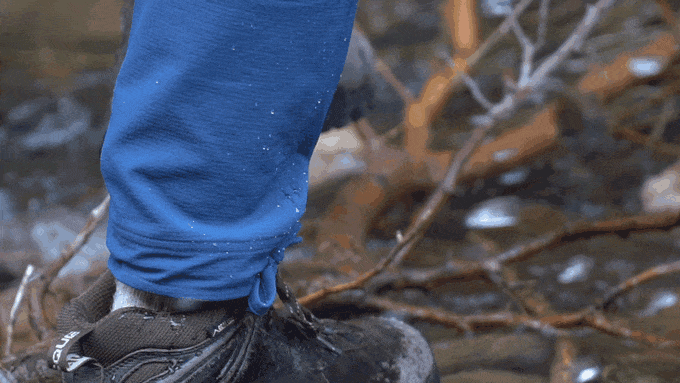 4-way stretch
Revolutionary four-way stretch features 360* of comfort and moves with you.
Anti-microbial
Unique fabric inhibits the growth of bacteria so you can do more and wash less.
Tear-resistant
Constructed from durable ripstop nylon that stops tears before they start.
REVOLUTIONARY MATERIAL MADE FOR ADVENTURE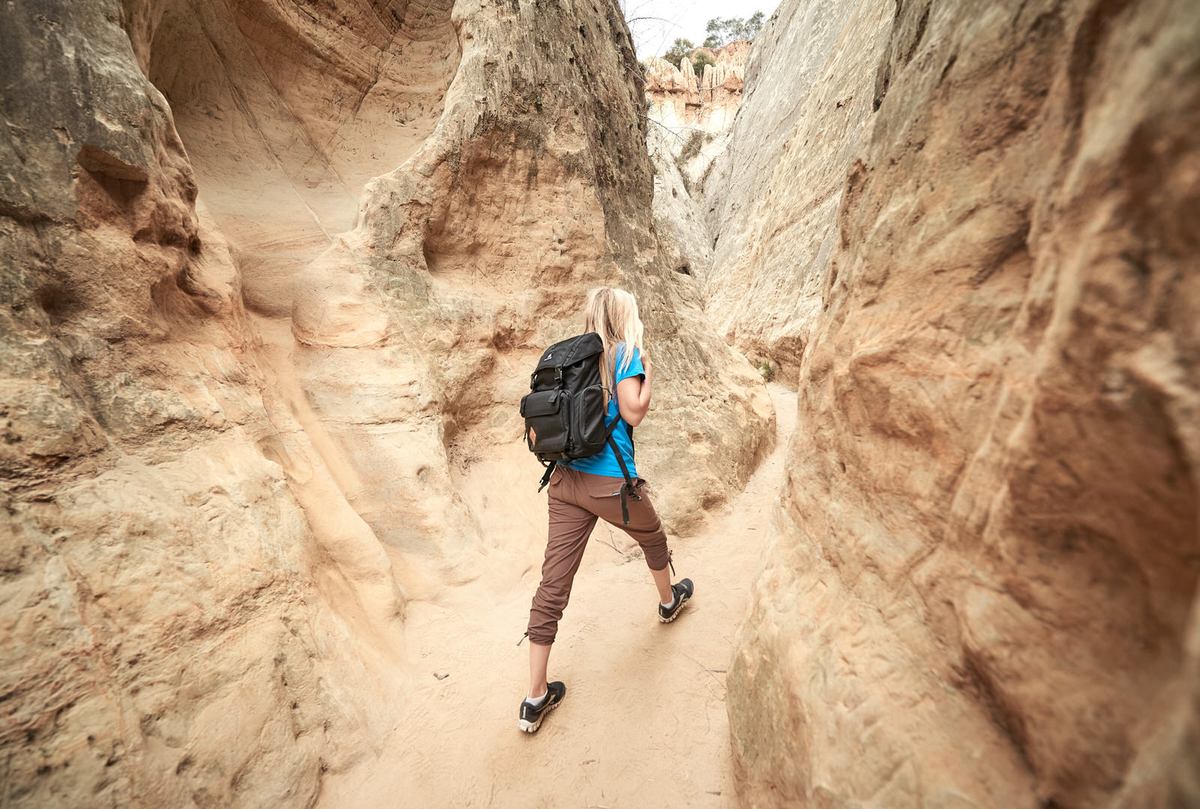 Stuff 'em & Run
Pack 'em down small by stuffing into the front right pocket. Wear them long or use the drawstring ankle ties to cinch them up to capris. No matter where you're headed, the Trailhead Pants are ready.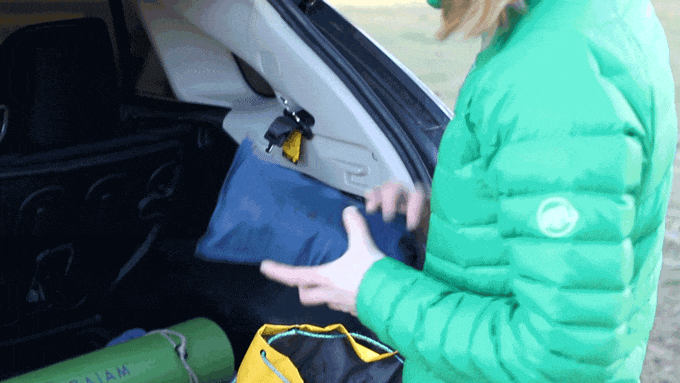 Waterproof and breathable, four-way stretch, antimicrobial, tear-resistant, packs down into front pocket for travel or for use as a small pillow.
bluesign® 88% nylon, 12% spandex with DWR finish. Made from recycled materials.
Machine wash cold with other technical fabrics. To keep the DWR feature lasting long, always hang dry. Do not bleach. Do not iron.
Worked great!
Bought a pair for my husband. We just climbed Mount Fuji and it held up so well? We climbed through rain and cold and he stayed so dry while I got soaked. Now I want a pair too!
Ridiculous
These trail pants are ridiculously awesome. Yes water resistant. Yes stretchy and super comfortable. The draw strings are the same stretchy material as the pants. (Not sure why people are complaining about the strings, they are fine) I'm 5'5" 123lbs and a size Small fits perfectly. (Any smaller and it would be too small) The front pockets are super deep and only one of the back pockets have Velcro. If I could add/change one thing it would be to add a zipper to the back pocket w/o velcro but whatev. The slim fit cut is perfect, it looks really good. Ready to blaze the trails.
SO Comfortable
Wore them 6 out of 8 days on a hunting trip in Alaska. With a pair of leggings underneath I was comfortable temperature-wise (low 40s in the mornings & evenings) and they never got stinky. They held up well on treks through the thick woods and on a lot of butt-slides down ridgelines. My biggest thing is that they're advertised as being waterproof rather than water resistant. They do dry fast when you get wet but I wouldn't wear them all day in the rain. Overall they're a great, comfortable pair of pants and super quiet for how water-resistant they are. My only wish is that they would make a pair with cargo pockets.
Love, love, love these pants.!!
Comfortable
Used my pants on their first hike this weekend, very comfortable and lightweight. These are great, I can wear to my office and get a workout in during lunch. Thank will buy another pair.
Rockin' Adventure Pants
These pants rock! I took them on their maiden voyage 9 days ago paddle boarding and they were so comfortable! They dried out quickly with the water I got on them when I sat on the board too. I read numerous reviews and decided they would suit my outdoor adventures. I bought a medium in the olive color and they fit perfectly...5'8" and normally wear mediums/8-10's. My legs are long so they are about 4-5 " above my ankles, but that works for me. I just ordered a black pair tonight. I am going to live in these pants on my upcoming Colorado adventure!
Most comfortable pans
Great pair of hiking and general active and leisure wear pants. Fit really well (not saggy), seem well manufactured and tough material. Really recommend them, so much that I'm thinking of getting a second pair in a different colour.
Exceeded Expectations
Honestly, I got these after seeing them in an advertisement one too many times. They were an impulse buy with plans to return them. I have to admit that they far exceeded expectations. They are lightweight and super comfortable. I immediately took them out on a previously planned backpacking trip along the Olympic Peninsula coastline and they performed great. The drawstring was snug and didn't loosen as the day wore on. The pants didn't ride down even with the backpack on (an issue I've had with many a pant). They are actually pretty water resistant. I wouldn't keep my phone in the pocket for extended periods of moisture, but they easily survived a downpour and didn't stay wet long at all after that or taking a misstep into the tide. Three days later and a quick wipe down and I was able to wear them out to dinner in Seattle (didn't pack for that part).
I've owned and still own a number of hiking pants from major brands and I gotta say, for the warmer months, these CoalaTree are the best.
Honestly can't say enough about these pants. They've quickly become my go-to choice. We'll see if that lasts when the weather cools, but I expect them to be worn around the house.