The Kachula Adventure Blanket
Adapts to your adventure
Use it as a blanket, travel pillow, light sleeping bag, or even an emergency poncho. Snap multiple Kachulas together for a modular blanket system. It's no wonder Outside Magazine named the Kachula one of the Best Adventure Blankets of the year.
THE SWISS ARMY KNIFE OF BLANKETS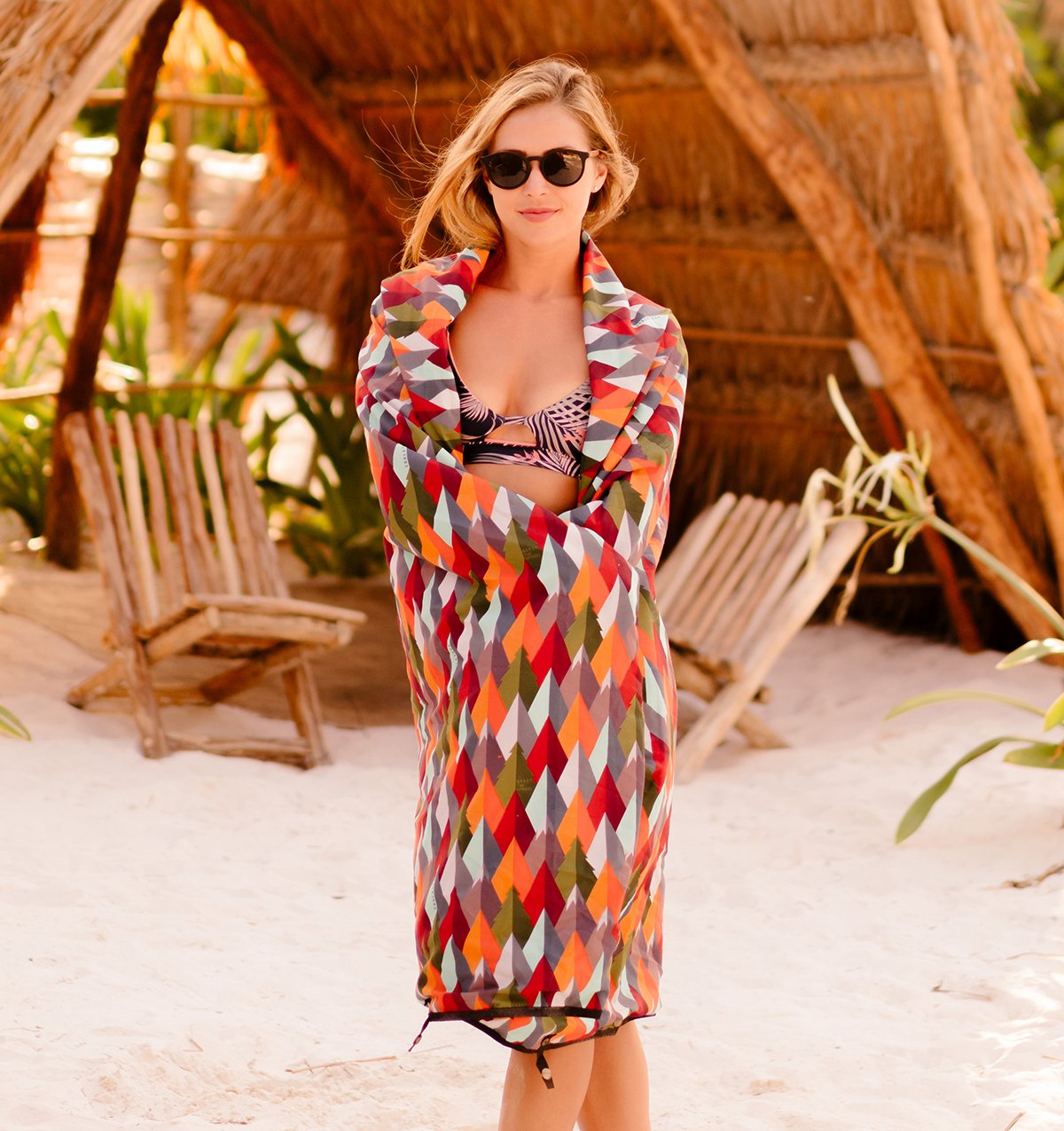 STAINS DON'T STAND A CHANCE
Rain or shine, the Kachula is ready. Both sides are coated with an eco-friendly DWR finish to keep you dry. Spilled your lunch? Watch water and other liquids bead right off.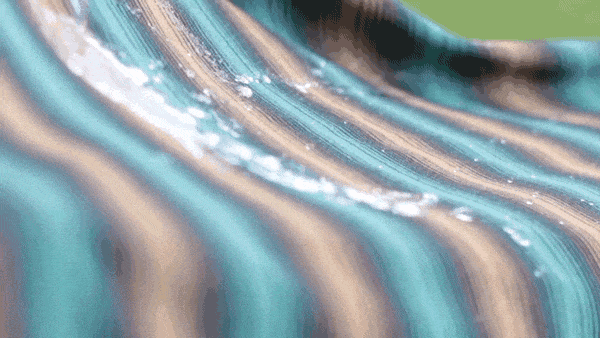 REMOVABLE HOOD
Attach the water-resistant hood to convert the Kachula to an emergency poncho, or keep it stuffed away in a secret zippered pocket when you don't need it.
MODULAR SYSTEM
Use the reinforced snaps to easily connect multiple blankets together or convert to a light sleeping bag. The Kachula adapts to any situation in a snap.
INSTANT TRAVEL PILLOW
Stuff it into the stash pocket for an easy throw pillow for hammocks, airplanes, and more. Durable zippers and a carabiner loop make it easy to use.
THE USES ARE LIMITED ONLY TO YOUR IMAGINATION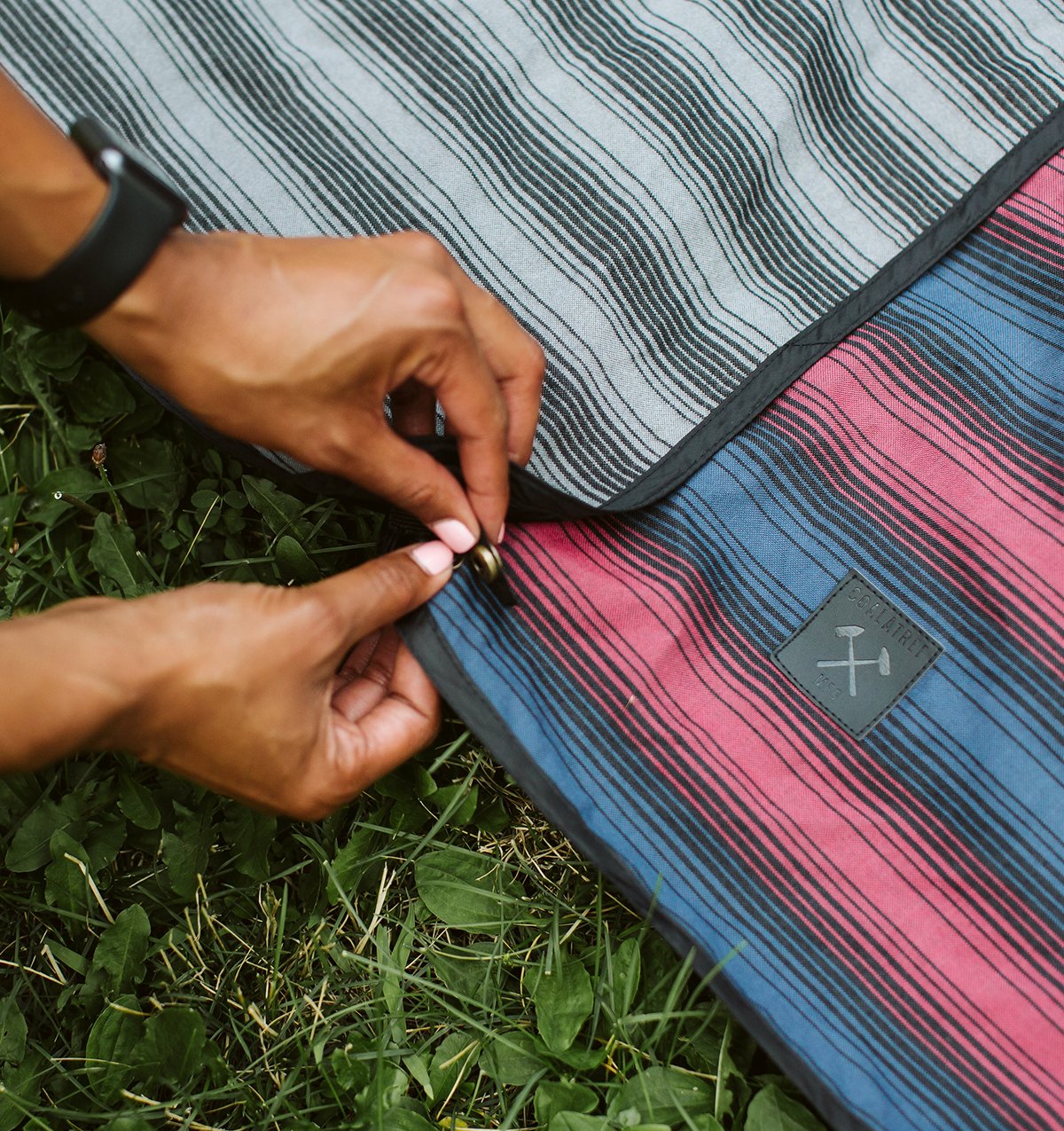 TAKE IT ANYWHERE
Camping, backyards, festivals, road trips, beaches, airplanes, and more... with the Kachula Adventure Blanket, you can take it anywhere and do anything with it. Rain or shine, the Kachula is ready for it all.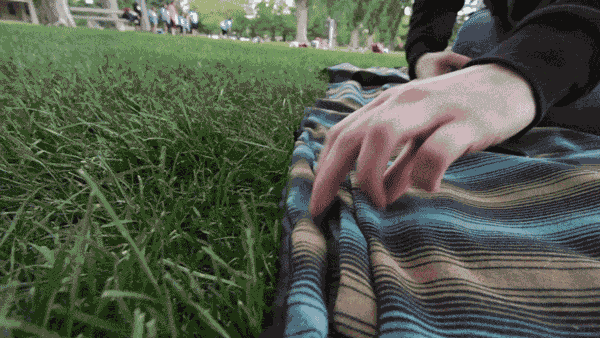 Your go-to blanket for any camping trip, festival, picnic, family adventure, international vacation, and more, the Kachula Adventure Blanket is ready for it all. The blanket stuffs into itself for use as a pillow, has a snap-attached hood to convert it to an emergency poncho, and is packable, water-resistant, and durable.
Top: Soft brushed nylon flannel, bottom: durable ripstop nylon, both made from 100% recycled materials
Measures 50" x 72" flat; weighs 1 lb 9 oz
Spot clean as needed. For a thorough cleaning, use a mild detergent in a front-loading washer. Hang dry.
Well worth it!
This blanket is built to last and is definitely
of superb quality. It's versatile and love that it can be connected to more blankets to make a bigger seating area too. If you're hesitating to buy it, don't. You won't regret this purchase.
Exactly what I wanted
This blanket has all the features I was looking for and way more. I found myself sitting on the ground a lot lately - meeting friends at parks and gardens and front yards. I wanted a portable, pretty, and eco-friendly picnic blanket. I got all that and it turns into a poncho or a pillow too! Wonderful company and wonderful blanket. I am extremely happy with my purchase.
the kachula blanket
i purchased the marley and the realtree camo kachulas. i bought them mainly because they were limited run blankets for the same price as the "regular" run blankets. i bought 2 of each the marley and the camo blankets. these seem like they will work great as a throw blanket for picnics, camping, and other outdoor activities. the snap on/off hood is great for turning it into a very functional poncho type garment. these blankets do not seem like they will keep you extremely warm on their own, but combined with the puffy kachula or maybe even another kachula they should keep you comfortable in most weather. i like that you can snap multiple blankets together to cover a larger area or to layer them into a sleeping bag kind of configuration. ive not yet been able to test these out in the elements yet but i feel they will work and hold up well. again these seem best for spring, summer, and early fall weather. when packed down into itself it makes a decent little pillow, but it will need "fluffing" through out its use this way. i leave the hoods attached when i pack them away. i feel this will help keep the hoods from being dropped/lost. i do kind of wish they offered solid colors as well as the different designs. it would also be cool if i could send a picture in to have custom kachulas made. so far so good im satisfied , will be back to get 2-3 puffy kachulas in the future.
Love it
This blanket is amazing. I love the big pocket, the way it becomes a pillow and the fabric is amazing. There was only the edge of 2 snaps that were undoing, but I burnt it and now it's brand new. I am excited to see how it olds in the rain.
Buy it. .
Nice money and money goes to a great cause
Back for more
I originally bought one to see how it was...came back and bought two more after I got it.
They are great blankets, lightweight but warm and waterproof.
Dope blanket
Versatile blanket I use it a lot paired with my top quilt for extra warmth and then just to lounge around camp or wherever even car rides. Love it.
Get it
Great blanket, you don't realize that you've always needed a blanket like this until you have one. Would recommend to anyone