Trailhead Pants - Black
Trailhead Pants - Black Size Guide
All measurements are for the garment and are not body measurements. Trailhead Pants have a stylish ankle-length fit and the inseam may be shorter than you are used to. The Trailhead Pant is unisex sizing and looks great on all genders.
How to Measure
Small
Medium 
Large
X-Large
Want to see how these compare to the Slim Fit Trailheads? Click here >
"Damn Near Perfect"
They raised over $400,000 to become Kickstarter's highest funded outdoor pant. Durable, smartly built, and ridiculously comfy, our Trailhead Adventure Pant is revolutionizing the traditional recreation pant.
The Outdoor Pant You Can Wear to the Office
Waterproof & Breathable
Don't let a little water ruin your day. Our eco-friendly DWR finish not only repels water, but makes stains and spills bead right off, while maintaining all-season breathability.
4-way stretch
Revolutionary four-way stretch features 360* of comfort and moves with you.
Anti-microbial
Unique fabric inhibits the growth of bacteria so you can do more and wash less.
Tear-resistant
Constructed from durable ripstop nylon that stops tears before they start.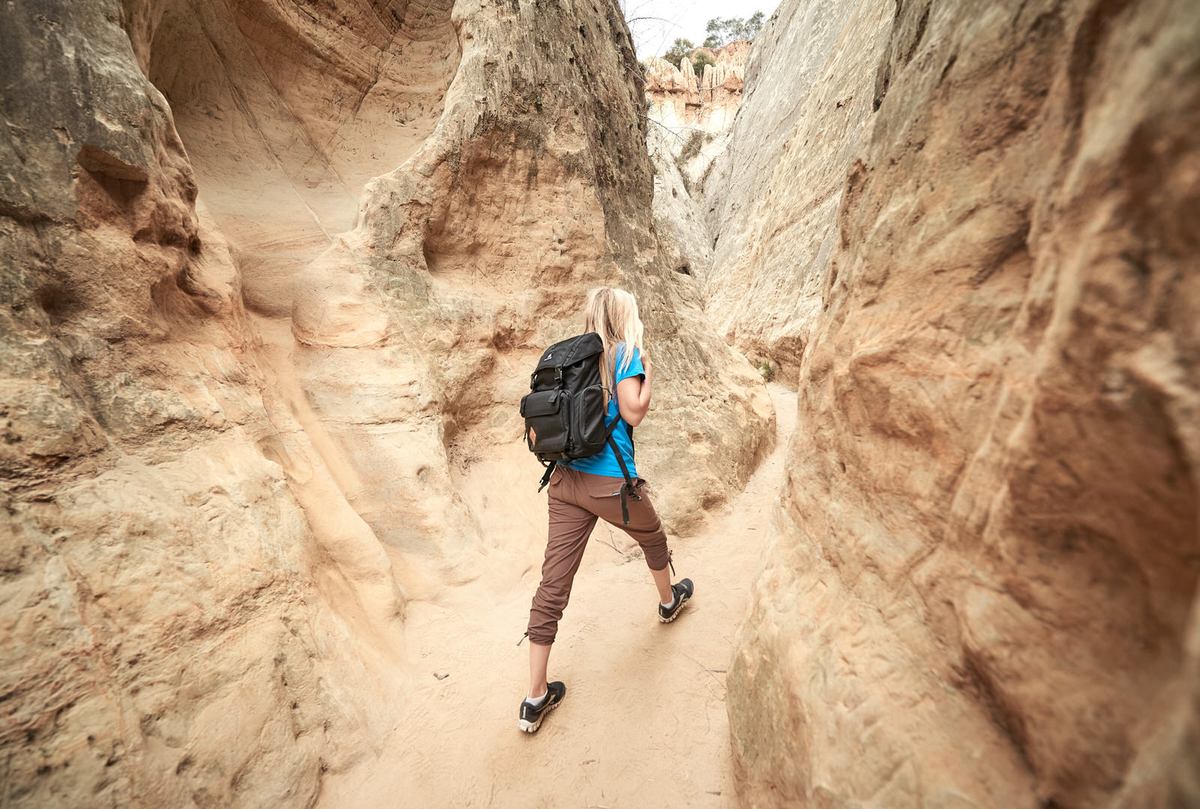 Stuff 'em & Run
Pack 'em down small by stuffing into the front right pocket. Wear them long or use the drawstring ankle ties to cinch them up to capris. No matter where you're headed, the Trailhead Pants are ready.
Waterproof and Breathable, 4-way stretch, Antimicrobial, Tear Resistant, Packs down into their front pocket for travel or a small pillow. 
Material: bluesign® 88% nylon, 12% spandex with DWR finish, made from recycled materials.
Weight:10.9 oz
Features: Tear-resistant | Adjustable elastic/drawstring waistband | Ankle drawstrings | Antimicrobial | Water- and stain-resistant | Breathable | Packable | Ergonomic crotch gusset | Bartacked stress points
So far so good
Wore these through 2 days in Yellowstone and was satisfied. Seem durable enough but haven't had the chance to test them for what they are rated for.
Love them thus far
I like the material, not sure how they will feel in summer- they seem like they might run a little hot?
Otherwise, seem like great pants for weather under 70 degrees.
They fit perfectly. Cant wait to wear them a ton this fall. Will probably order the black ones too.
Good But Not Great
No mistake these are some very comfy pants. They are breathable and stretchy but will also be warm on a brisk morning. However, they are not water proof. They are indeed water resistant, I could literally see where the water seeping into my pants before the downpoor began. Then I was soaked...yet still some of my favorite non denim pants.
Thank You Coalatree.
Sincerely,
Garrett
I want to hike more...
I'll be honest, I have yet to hike or camp with these gems. They've become my default after-work pants - they're so comfortable, breathable, and pet-hair deflective. As others have noted, the extra deep pockets are :100:, plus a Velcro back pocket; I can store what I want without feeling like they'll fall out. I HAVE sailed with them, so I know they're great as active, move-with-me pants. I have two pairs, and may buy more!
Solid!
I honestly wear these for lounging and after having surgery, but they're absolutely awesome. A little overpriced, but the durability makes up for it. I'll probably snag another color here soon.
Such comfort!
These pants are so comfortable, my birthday is coming up so I asked my family to buy me more of these. I hope they do!
Greatest pants ever
The pants are amazing. Comfortable and breathable enough to wear in the summer. The pockets are super deep, which is great if you're biking or doing something else active. Water falls right off of them, but I don't recommend testing the "waterproof" material with mustard like I did...to be fair to myself however, that "test" with the mustard was straight out of the commercial. Still highly recommend the pants.
Wow!!
So comfy! I love this pants.